Saturday Night Takeaway's Scarlett Moffatt: 'I try to be a good role model for northern women!'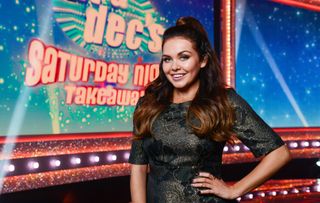 (Image credit: ITV)
As Ant & Dec's Saturday Night Takeaway celebrates its 100th episode on Saturday night, co-host Scarlett Moffatt reveals what it's like working on the fun-filled family show…
Scarlett Moffatt on how Saturday Night Takeaway has changed her life...
Now into her second series as co-host of the award-winning Ant & Dec's Saturday Night Takeaway, Scarlett Moffatt seems to have well and truly hit her stride.
"I've learned a lot in a year and I do feel more confident now in my abilities," says the former Gogglebox star. "I know where my strengths are and the things I'm good at."
The opening show of this series saw Scarlett chugging around London in her very own Takeaway Express train trying to find members of the public to fill the 'Best Seats in the House'.
"It does give me confidence to know that if Ant and Dec believe in me to do the live show 'ad lib' then I need to believe in myself really," she says.
Ahead of the show's 100th episode on Saturday night, Scarlett, 27, talks on-screen mishaps, good luck charms and working with her heroes…
How much do you enjoy doing live TV?
"I love doing live TV; it's the adrenaline of not knowing what's going to happen. As long as you openly admit anything could go wrong, it's fine. If someone fluffs a line or the autocue goes off, it just shows even TV presenters are human. You're going to make mistakes but it doesn't matter – people will just say: 'It's definitely live!'"
Scarlett's job each week is to find members of the public to sit in the 'Best Seats in the House'
Do you get nervous?
"Yes, but only good nerves. I get them about everything because it shows you care and want to do a good job. Yes, you can feel nervous but I get a real sense of achievement if I can tick something off that I've done."
You were a self-confessed fan of Takeaway before you started working on the show. What's it been like seeing it from the inside?
"Well, I'm pleased to say, it hasn't ruined the magic. As a viewer, you don't realise just how much hard work goes on behind the scenes – costume, hair and make up, cameramen, lighting, choreography – you just think they've all just popped into the studio. I'm really pleased I've seen how it all works. On Gogglebox, we wouldn't think about things like that. You switch on the TV to switch off all the stresses of everyday life. You don't think: 'I wonder how Colin's doing behind that camera.'"
Are there any rituals you carry out before the show goes live?
"I don't have a ritual but I have a little Noddy toy that I take to every show that I do sort of like a good luck charm – he even went to Australia with me when I did I'm a Celebrity, Get Me Out of Here. I've had him since my third birthday and I'd be lost without him."
You meet lots of famous people on Takeaway. Do you ever get star struck?
"I get star struck by people I admire but if I got star struck by every single person off the telly I'd never get through the day's filming. If there's ever a day when I don't, though, it'll be a pretty sad day really."
What was your favourite moment from the last series?
"The highlight has got to be when we filmed the finale in Disney World, Florida, and I got to be Mary Poppins for the day, which is every little girl's dream. And getting to be up on stage with Ant & Dec and Cat Deeley [who stole the Crown Jewels], the three heroes I watched every Saturday morning on SMTV Live. As a kid, you never dream that the people you watch on TV you'll actually be joining on TV one day."
Scarlett dressed as Mary Poppins for last year's finale in Disney World, Florida
Now you're a busy TV presenter, do you get to go back to North East much?
"I've just bought my first house in Durham and I feel very adult. I try and get home as much as possible. Other than that I'm living out of suitcases – I never know which Travelodge I'll be staying in next!"
Are you able to spoil your mum, Betty, and dad, Mark, these days?
"Well, I don't do it so that I can tell everyone but I was very lucky to have been able to pay mum and dad's mortgage off. I think anyone would do that in my situation and knowing that my family have got a house means I can chill out a little bit and not be as anxious about the future. It's great that my family get to come along to the shows because not many people get to bring their family to work. It's nice to have them involved."
And how do the public react when they see you out and about?
"Everyone's been so lovely; I just always try my best to be myself. Not everybody will like you but it's very nice when I get families coming up to me saying their children love you, especially when they say my little girl adores you. That makes me so proud because there aren't a lot of northern women on the TV. I try to be a good role model for northern women."
Would you like to host your own prime-time show – Saturday Night with Scarlett, perhaps?
"I don't think anything could beat Ant & Dec's Saturday Night Takeaway. I often get asked: 'Where do you see yourself in five years' time?' – it feels slightly like a job interview and I never know what to say. For my next show, I'd love to do a documentary. I love history so it could be about the suffragettes so that people can see a different side to me."
And do you have any goals outside of TV?
"The only thing I can never get my hands on is a driving licence. I've failed my driving test too many times than I care to think about!"
Do you enjoy being famous – and is there a downside?
"I think with every job or career there's always going to be negatives but life's too short. I try and be positive with everything. Like every other person in the world, I have bad days, when I could sit in bed in my onesie all day but that would be no life. So I just try and enjoy every opportunity I'm given."
Ant & Dec's Saturday Night Takeaway continues on Saturday 3rd March at 7pm on ITV.
Get the latest updates, reviews and unmissable series to watch and more!
Thank you for signing up to Whattowatch. You will receive a verification email shortly.
There was a problem. Please refresh the page and try again.