Sian Gibson: 'I got star-struck filming Death on the Tyne!'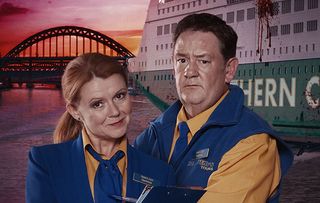 (Image credit: OLLIE UPTON)
Sian Gibson and Johnny Vegas on murder and mayhem in Gold's comic whodunit Death on the Tyne
After last year's Murder on the Blackpool Express, chippy coach driver Terry (Johnny Vegas), and bubbly tour guide Gemma ( Sian Gibson) are back for another murderous trip in Gold's comedy drama Death on the Tyne.
The feature-length drama sees the pair take cheery pensioner Mildred (Sheila Reid) and her retirement home pals on a cruise from Newcastle to Holland. But a killer soon strikes.
Here, Johnny Vegas and Sian Gibson give TV Times the lowdown on Death on the Tyne…
TV Times: How would you sum up Death on the Tyne?
Johnny Vegas: "It is like an Agatha Christie where they're all trapped on this boat and tragedy strikes but how's this happening again?! How do these two people attract crazy scenarios?" Sian Gibson: "This one feels more claustrophobic because they're stuck on the ship." Johnny Vegas: "And there's more violence, they've ramped it up."
TVT: Has Terry and Gemma's romance blossomed?
SG: "They're properly together. On the first one, when he solved the case she got a twinkle in her eye for him, so now someone being murdered again has brought the excitement back. If we do a third and there are no murders, they're screwed!" JV: "It could be Gemma doing the murders just to keep the relationship fresh! Terry wants to propose now but people keep getting murdered…"
TVT: Did you enjoy working with the guest cast, which also includes Sue Johnston, Felicity Montagu, Doon Mackichan and James Fleet?
JV: "You fawn over them Sian!" SG: "Yes, I get star-struck. Sue's amazing, I'm a massive fan of Doon and we've got lovely Sheila back, who's hilarious. But there were no egos from anyone. They have to do ridiculous things but everyone came in with the right attitude of having fun and not taking it seriously."
TVT: Would you like to work together again?
SG: "Maybe Gold could do a spin-off of us two just cruising round the Greek islands." JV: "Yes there has to be a reality show spin-off in this. We have also had private discussions about bringing back Hart to Hart with us two – but in Preston!"
Death on the Tyne airs on Gold at 9pm on Saturday 15 December
Get the latest updates, reviews and unmissable series to watch and more!
Thank you for signing up to Whattowatch. You will receive a verification email shortly.
There was a problem. Please refresh the page and try again.