Legendary actor Sir John Hurt has died, aged 77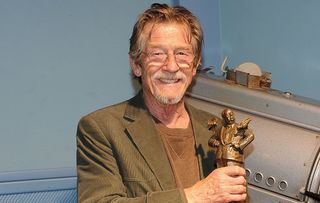 (Image credit: ABACA/PA Images)
One of the modern greats of British stage and screen, Sir John Hurt, has died after a long battle with pancreatic cancer
Sir John Hurt, the star of Harry Potter, Alien, The Elephant Man and many other great films, has died at 77, according to his agent.
The Bafta-winning star continued working despite being diagnosed with pancreatic cancer in 2015.
Sir John told the Press Association of his diagnosis in June 2015.
He said: "I have always been open about the way in which I conduct my life and in that spirit I would like to make a statement.
"I have recently been diagnosed with early stage pancreatic cancer. I am undergoing treatment and am more than optimistic about a satisfactory outcome, as indeed is the medical team.
"I am continuing to focus on my professional commitments and will shortly be recording Jeffrey Bernard Is Unwell (one of life's small ironies!) for BBC Radio 4."
He later told the Radio Times: "I can't say I worry about mortality, but it's impossible to get to my age and not have a little contemplation of it.
"We're all just passing time, and occupy our chair very briefly. But my treatment is going terrifically well, so I'm optimistic."
Sir John enjoyed a big hit with sci-fi horror Alien in 1979 and his character's final scene has been frequently named as one of the most memorable in cinematic history.
Most recently he appeared as Father Richard McSorley in Jackie, the biopic of President John F. Kennedy's wife, which is in UK cinemas now.
US director Mel Brooks described Sir John as 'cinematic immortality', as tributes poured in for the star.
Brooks paid tribute to Sir John, who had starred in his comedy Spaceballs, saying on Twitter: "No one could have played The Elephant Man more memorably."
He added: "He carried that film into cinematic immortality. He will be sorely missed."
JK Rowling was among those who were quick to lavish praise on John, saying he was 'immensely talented and deeply beloved'.
Even Twitter made its own tribute to him.
Stephen Fry said Sir John was great on the stage, small screen and big".
Sir John was born in Chesterfield, Derbyshire in 1940, the son of an Anglican vicar and an engineer. Initially he showed talent as an artist, but he'd acted from a young age and eventually earned a place at RADA.
Sir John was knighted in 2015 for his services to drama. He won numerous Baftas, including for The Elephant Man in 1981, and was twice nominated for an Oscar as Best Actor.
As well as film, he had numerous roles on television, including playing The Doctor in three episodes of Doctor Who in 2013, the dragon in BBC1's Merlin, and controversial MP Alan Clark in The Alan Clark Diaries.
He had been married to Anwen Hurt for 12 years.
She said that the Oscar-nominated star died at his home in Norfolk on Wednesday after a battle with pancreatic cancer.
In a statement to the Press Association, she said: "It is with deep sadness that I have to confirm that my husband, John Vincent Hurt, died on Wednesday 25th January 2017 at home in Norfolk."
"John was the most sublime of actors and the most gentlemanly of gentlemen with the greatest of hearts and the most generosity of spirit. He touched all our lives with joy and magic and it will be a strange world without him."
Get the latest updates, reviews and unmissable series to watch and more!
Thank you for signing up to Whattowatch. You will receive a verification email shortly.
There was a problem. Please refresh the page and try again.