Springwatch host Chris Packham: 'I'll be bigging up wasps!'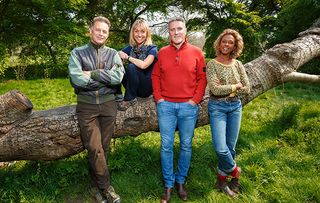 (Image credit: BBC/Jo Charlesworth)
Chris Packham and the Springwatch team on how surveying wildlife in our own back gardens can help their new citizen science project, Gardenwatch
The Springwatch team is back next week, broadcasting live from the show's year-round home in Cairngorms National Park, Scotland.
Pine martens, eagles, ospreys and Scottish wildcats are on the watchlist, but presenter Chris Packham is hoping to see more unusual creatures this time around.
"I'm really keen to see silver-stiletto flies," he tells TV Times. "You wait till you see them! They look like they're straight out of 1970s Glam Rock."
Over the next three weeks, Chris and his Springwatch co-hosts Michaela Strachan, Gillian Burke and Iolo Williams will be scouring ancient forests, wild moors and deep lochs to bring us seasonal stories from the Cairngorms' characters.
But they'll also be turning their attention to smaller-scale and perhaps lesser-known regions of the UK: our very-own back gardens.
This year, Springwatch is calling upon viewers to get involved in their biggest-ever citizen science project that will help map the health of UK wildlife.
Created with the show's conservation partners, the project – called Gardenwatch – asks viewers to undertake easy, nature-related quests designed to collect data that will help build one of the most comprehensive records of the nation's wildlife.
TV Times caught up with the Springwatch gang – Chris, Michaela, Gillian and Iolo – before they head to the wilds of Scotland to find out more…
TVT: Are you excited to be back in the Cairngorms for spring?
MS: "We're very excited! We filmed Winterwatch there earlier this year, but we've never stayed for spring. It's a beautiful time of year to be there."
IW: "I was up there a few weeks ago and there's a real buzz. The locals are looking forward to the Watches returning."
CP: "It was quite snowy when we were there in January so we couldn't access the mountain environment, but Gillian's going on a jaunt up there this time…"
GB: "Yes, I'll be trekking across the Cairngorm plateau and spending a few nights camping up there. I want to get really entrenched in the landscape."
TVT: What wildlife are you hoping to see?
MS: "Fingers crossed we'll see baby pine martens. That would be a plus for someone like me who loves mammals."
CP: "Apart from the silver-stiletto fly, I'm keen to see the pine hoverfly. I mean, come on! We're talking proper insects."
GB: "We're also looking at wildlife in other areas of the country and will be shining a light on an environment where most people can experience it – in their own gardens."
TVT: Tell us about Gardenwatch…
MS: "We want to get as many people involved in this as possible. Gardens are a last refuge for so much wildlife, so we'll be looking at practical and positive ways everyone can re-wild their gardens."
IW: "Yes, the series will show examples of how people have made their gardens more wildlife-friendly, which we can all learn from."
GB: "If we can set a baseline of the health of the nation's gardens, we can mark and track changes. Hopefully by Autumnwatch, we can start feeding information back to viewers."
CP: "But people often tend to pick and choose the nice things they like in their gardens, and we'll be asking for a degree of tolerance and understanding of all species that share our space. So I'll be bigging up things likes wasps and pigeons."
TVT: What should we be looking for in our gardens?
IW: "Everything! From violet ground beetles and black slugs to blue tits, robins and cowslips. If we find there's a garden revolution as a result of this, it will have a phenomenal effect on wildlife."
MS: "A lot of people don't know how to help and feel disempowered, but it's important we look at the detail and wealth of wildlife within a single habitat."
CP: "It doesn't have to be big and flash, small stuff like tree slugs are fascinating, too. Plus they're an intrinsic part of our ecology. If that idea feeds through to Gardenwatch then we'll have done a great public service."
Springwatch airs Monday-Thursday on BBC2
Get the What to Watch Newsletter
The latest updates, reviews and unmissable series to watch and more!
Senior Writer for TV Times, TV & Satellite Week, What's On TV and whattowatch.com
Rebecca has more than 20 years' experience in journalism and is now writing about all things telly-related for TV Times, TV&Satellite Week, What's On TV and whattowatch.com (opens in new tab).
She's interviewed all sorts of big-name stars, including Al Pacino, Ewan McGregor, Tom Hardy, Winona Ryder, Benedict Cumberbatch and more. She's also been known to step in front of the camera, dressing up as a 1920s flapper to star in ITV's Mr Selfridge and co-hosting ITV News at Ten with Mark Austin – all in the line of duty!
When she's not quizzing actors, directors and producers, you'll find her bingeing US dramas and anything horror/sci-fi/zombie-themed. But her greatest love will always be Game of Thrones… just don't mention the ending!