Telly presenter Steph McGovern: 'I tried to milk a sheep – badly!'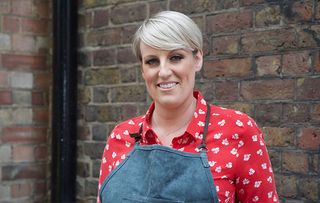 (Image credit: BBC/Endemol Shine UK/Rudi Gordon)
Find out why Steph McGovern turned her hand to sheep milking while exploring how Britain's craft industry has shaped our nation…
Steph McGovern is definitely a contender for the busiest person on TV. When she isn't bringing us business news on BBC Breakfast, presenting Watchdog or popping up on The One Show, she's helping families save bags of cash on Shop Well for Less.
"It's tricky to say no to things when they're really interesting – I like to make hay while the sun shines!" says Steph, 36, when she joins TV Times for a chat about the latest project to catch her eye, BBC Two's Made in Great Britain.
The six-part series sees Steph oversee proceedings as four skilled craft workers from the fields of pottery, steel, leatherwork and cookery turn back the clock and get to grips with historic British trades to learn how they evolved over time and how they put their products on the map…
"There's a lot of global appreciation for the 'Made in Britain' tag,' says Steph. "We export a lot to people in China and Japan, for example, who want that luxury British feel. We live in a world where mass production is really important but there is also a love of artisan and crafts. The 'Made in Britain' tag is allowing some craftspeople to grow their business, but many don't realise the history behind the things we take for granted."
Here Steph – who is as lovely and down-to-earth as she is on screen - tells us more…
What attracted you to this series?
"I'm one of those people who stopped doing in history at school when I was 13 because, to be honest, I didn't like it. So I've always felt a certain ignorance about history. Making Made in Great Britain has been really fun and I've learned loads. The history of some of our most important products, like shoes and cutlery, is totally fascinating."
Tell us more about the people taking part…
"We've got a team of craftspeople, each with their own speciality - Charlton is a chef, Katie a blacksmith, Claire a potter and Jason is a leatherworker. Each week we look at the origins of a particular product and see if our craftspeople can make them as they would have been made in different eras of time. It's like living history. They experience what life would have been like for a farmer making cheese in the 1600s or a blacksmith making a scythe in Sheffield, what jobs were done by men, women or children, what they would have been paid and even the food they had for lunch!"
What are your favourite facts from filming?
"I've love random facts like 'pothole' comes from potters digging up clay in the ground. The terms 'mad as hatters' is because the chemicals hatters used made them mad and 'nose to the grindstone' is from the labour-intense grinding of scythes. I didn't know that bone china was literally made from ground up animal bones to give it that white colouring! All the episodes in the series have 'Oh wow, I didn't realise that' moments in them."
Do you have any craft skills?
"My dad is a sculptor so I think I've got the craft in me. I do DIY and if I've time I make cards for people. I'm not at the level of the craftspeople on the programme, but I can definitely appreciate their skills. I jumped in when they were shaping a scythe, did a bit of dyeing of hats, and in the cheese episode I tried to milk a sheep – badly!"
This show seems a bit of a departure from the finance-focused shows we're used to seeing you on…
"I started life before the media as an engineer. I used to work for Black & Decker in Durham [Steph's too modest to mention that she won 'Young Engineer for Britain' when she was 19, after designing a device that saved Black & Decker £150,000 a year]. My core background is science and engineering, which also falls into the business category because that's how businesses used to make money in the old days! Made in Great Britain falls into the genre of history but it's also about industrialisation and technology."
On a different note, you were long hotly-tipped to be one of the stars of this year's Strictly Come Dancing… Would you consider it in the future?
"I've been asked to do Strictly but it's a big commitment, I can't take on any more at the minute. But I absolutely love music and dancing; I used to Irish dance. If I was going to do Strictly, I'd want to throw my heart into it. So maybe one day, but I don't know, you can't do everything at once..."
Made In Great Britain starts Friday 26th October at 9:00pm on BBC Two
Get the latest updates, reviews and unmissable series to watch and more!
Thank you for signing up to Whattowatch. You will receive a verification email shortly.
There was a problem. Please refresh the page and try again.