Stephen Mangan on new Bliss role: 'Andrew's literally faking everything!'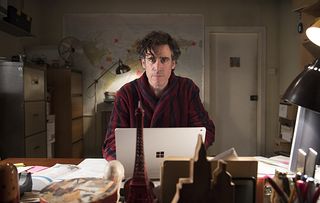 (Image credit: Justin Downing)
Episodes star Stephen Mangan returns to our screens this week in Bliss, Sky1's new comedy drama about a man living between two secret families. Here, he tells us more...
Stephen Mangan on playing a desperate man living a secret double life…
Most of us find it hard enough juggling a job with a family and a busy social life. So imagine what it would be like having two secret families? That's the predicament faced by one man in Sky1's new comedy drama, Bliss.
Stephen Mangan (Episodes) plays travel writer Andrew Marsden, who finds himself living between two sets of 'wives' and children whose existences are unknown to each other. On one side of Bristol there's his actual wife Kim (Austin Powers' Heather Graham) and their daughter Christina and, on the other, there's his partner Denise (This is England's Jo Hartley) and their teenage son, Kris.
As cheating Andrew darts from one family to the other, he goes to extreme lengths to keep his double life a secret. Stephen, 49, tells us about the show and reveals why his own life will NEVER be that complicated…
How has Andrew found himself in the difficult situation of having two families?
"Andrew made a series of decisions years ago that seemed like the right thing to do at the time and now he's got two 'wives', two kids and this terrible life where he's constantly running between them! He knew he should have done something about it but he just doesn't want to hurt anybody or lose anybody because he genuinely loves both women."
If only she knew... Andrew alongside wife Kim (played by American actress Heather Graham)
Andrew ties himself in knots trying to keep his double life a secret…
"Andrew's doing what we all do all the time: he's putting off the day of reckoning. It's like that pile of letters you need to open or paying your tax bill. You keep putting it off but you know one day you're going to have to deal with it – but it's easier to deal with things tomorrow than today."
As Andrew's two worlds become ever harder to contain, it really tests his sanity doesn't it?
"It does. Andrew's life is so complicated and it's making him so unhappy. He's constantly thinking: 'What lie did I tell'? 'Which family am I with'? 'Where am I supposed to be'? And, of course, he's not actually travelling to any of these countries for work either, so then he's up all night Googling stuff, so he can write his travel reports. He's literally faking everything!"
On the move... Andrew seems happy to be reunited with Denise (Jo Hartley) and their son, Kris
In one particularly cringe-worthy scene in the first episode, Andrew displays some pretty shocking – and some might say offensive – behaviour to try and get out of a meal with Denise and her friends…
"He's doing something he knows is wrong but he feels that, ultimately, the end justifies the means. For him, it's the bigger thing of keeping his two families together – he thinks it's worth being a bit of a git at a dinner party to Denise's friends!"
Do you think Andrew has any redeeming features whatsoever?
"Andrew isn't this completely horrible monster so, while people will think what he's doing IS terrible, they will feel a bit sorry for him. He knows he's not going to get away with it forever; at some point it's all going to come out."
Andrew can barely look at himself in the mirror as he thinks about the lies he's telling
We understand that, for authenticity, writer David Cross (Arrested Development) apparently had ways of making sure both 'wives' never crossed paths…
"David tried to keep Jo and Heather apart during shoots, just to make it more realistic. As Andrew, I'd go and film all the stuff with Jo and have that whole life in that house then, after a couple of weeks, I'd say goodbye to her, then go and shoot scenes with Heather."
Stephen, you're married to former Holby City actress Louise Delamere and have three sons. Could you imagine your life being as complicated as Andrew's?
"When I looked into it, I discovered it's more common than you'd imagine. Almost everyone I spoke to knew of someone or had a close friend who had a secret family elsewhere. It's such a stressful existence, though. I've got a family and it's nearly killing me just having one!"
Bliss, starring Stephen Mangan, starts on Wednesday February 14 at 10pm on Sky1.
Get the latest updates, reviews and unmissable series to watch and more!
Thank you for signing up to Whattowatch. You will receive a verification email shortly.
There was a problem. Please refresh the page and try again.