Sue Johnston: 'I haven't loved a job as much as Rovers since The Royle Family!'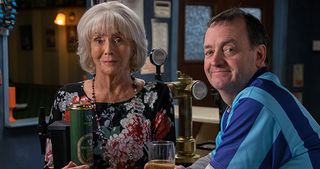 Sue Johnston (opens in new tab) has got a glint in her eye as she tells TV Times (opens in new tab) about swapping one Rovers for another to lead the cast in a new Sky 1 sitcom, Rovers (opens in new tab), premiering on Tuesday, May 24.
The former Corrie star and life-long Liverpool fan plays gossip queen Doreen in Rovers, following the highs and lows of football fans and their beloved lower league team, Redbridge Rovers.
It's a match made in heaven for Sue – last seen on our screens in Downton Abbey – as she's not only a football fanatic in real life, but she's also reunited with Craig Cash for the first time since they appeared together in BAFTA-winning comedy classic The Royle Family.
At 72, Sue says she's too 'long in the tooth' to be taking on roles she doesn't believe in, but when the scripts for Rovers came through her door she knew she had to take it.
What made you say yes to The Rovers?
"I like to choose jobs which, when I read the scripts, make me get that buzz. I'm not going to do anything that isn't going to give me that buzz any more. I don't want my jobs to be a hard slog because I've done that. I just want to get that enjoyment back, and I think Rovers did that for me.
"I haven't loved going to work and saying the words as much as I have done since The Royle Family – I just found it so funny and so enjoyable."
Your character Doreen runs Redbridge's clubhouse. What's she like?
"Quite bonkers – most of the characters are to be honest! She runs the whole thing and she's quite eccentric, she's not very bright, but full of the milk of human kindness, so she wouldn't do anybody wrong and she wouldn't be harsh or spiteful. But she might not always get things – especially football!"
You've been a lifelong Liverpool fan so your football background must have helped you to understand the obsession the characters feel about their club...
"Doreen's the matriarch of this hilariously dysfunctional family, who are all bound together by their love for the struggling Redbridge underdogs. But for telly fans this series is about more than just the game.
"It is about football but mainly it's about the characters and how they disagree and agree on things, fall out, gossip and support each other. So really, although football is the background, to me it's about the characters and their uniqueness, it's a really warm comedy and I think everyone will be able to identify with at least one of the characters."
You must be delighted to be working with Craig again.
"Craig plays fact-loving, diehard Redbridge fan Pete, working with him again was like slipping on a pair of comfy slippers. I just love him, you know, he's a perfect person so I could slide very happily into my slippers!
"He makes me laugh and we actually ending up corpsing quite a lot because we can't help but be naughty when we are together. Craig's got a sort of naivety about him, like a child that you have to sort of love and look after. That's my relationship with him, and I think it was the same with our characters – Doreen mothers Pete a bit and loves him in the same way – and he's such an idiot, too!"
You've clearly enjoyed filming this show – ar eyou hoping for a second series?
"It would be amazing to be able to bring everyone back together for another series because there's so many more stories we could explore, and plenty of fun to be had.
"I sit on the terraces at Liverpool week in, week out so I know what the banter is like between football fans and that's in the Premier League, I'm sure it's even funnier the lower down the leagues you go!"
Get the What to Watch Newsletter
The latest updates, reviews and unmissable series to watch and more!