Sue Perkins hosts a new name-based comedy panel show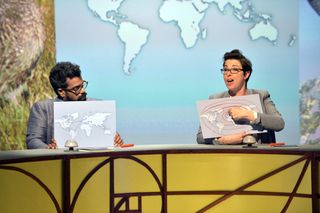 (Image credit: BBC/Talkback/Brian Ritchie)
By her own admission, Sue Perkins (opens in new tab) hasn't got the most glamorous name in showbusiness.
"Well, it's not a name that speaks of greatness, is it?' says Sue. "There isn't an illustrious history of Susans I can think of. Let me see, there's Susan Boyle, and Susan Sarandon.
"I think the Susans of this world are behind the person who is leading. So a Susan would go, 'I'm very happy for you to go off and invent penicillin – I'm off to make a macramé scarf'. Or, 'You take Constantinople – I'll put the kettle on'."
Boring name or not, Sue has become one of the most popular presenters on TV – from Great British Bake Off (opens in new tab) to Thronecast (opens in new tab), the Game of Thrones (opens in new tab) sister show.
In the New Year, Sue hosts BBC2's new six-part panel show, Insert Name Here, alongside team captains Richard Osman (opens in new tab) and Josh Widdicombe (opens in new tab). We caught up with her to find out more…
What's the show about?
"It's about famous people, past and present, who have one thing in common: they share the same name. Each week we take a name – say, George – and in the questions, anecdotes and jokes that emerge we'll cover everyone from George Clooney (opens in new tab) and Prince George, to George Michael (opens in new tab) and St George. It takes in science, history, art, music and popular culture which fits my slightly wayward, pinball brain perfectly."
Sounds like we'll learn something whilst having a giggle."
"You'll mainly have a giggle. You know me – my trademark is being put in shows where viewers are supposed to learn something and I end up either getting drunk or falling over. But while the focus is on fun, we will have scientists and historians alongside the comics on the panel, people with a lot of knowledge."
Mock The Week (opens in new tab), QI, Have I Got News For You (opens in new tab)… you're no stranger to panel shows. What's the appeal?
"I love them, but some are hard to appear on and I don't always work well for them. The ones I enjoy doing are shows like QI (opens in new tab) where there's no pressure to deliver 'jokes' and you can just give funny anecdotes. I've experienced the other end where punchlines are constantly fired in a gladiatorial way and find those intimidating. Insert Name Here definitely won't be intimidating for our guest panellists."
How are Richard and Josh as team captains?
"They're funny as hell. They battle it out, trying to answer as many questions as possible about each person, hoping to earn the right at the end to decide the greatest bearer of that name. Richard looks like a headmaster as usual. He's got an erotic strictness to him but underneath he's playful and cheeky, and Josh – well, he's the badly behaved schoolboy of the show."
Is 2016's Bake Off due to start filming soon?
"Yep, that's happening in Spring and I can't wait. We're so pleased the last series captured people's hearts and we were so proud of the bakers. It was a cracking selection and it's always exciting to see the next bunch, who just get ever more brilliant. "
Insert Name Here (opens in new tab) begins on BBC2, Monday, January 4, 10.00pm.
Thank you for signing up to Whattowatch. You will receive a verification email shortly.
There was a problem. Please refresh the page and try again.