Take Me Out contestant creates a total blackout!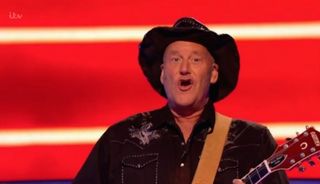 When a bloke turns up on Take Me Out he's got a fair chance of impressing at least one of the 30 single ladies looking for a date. But in the latest edition of the show hosted by Paddy McGuinness one contestant didn't go down at all well with the girls.
In the ITV dating show, a single guy comes down the 'love lift' and tries to impress the ladies. Each girl has a light which they leave on if they're interested or turn off if they're not. 
Things were looking promising for Big Al as he descended into the studio, with Bryan Adams playing in the background, to see if he could bag a date…
(Take Me Out/ITV)
However, there was one particular lady among the 30 girls looking for a date who didn't look impressed with the show's latest offering.
Likey Big Al? #takemeout pic.twitter.com/upiMNSvdOU
— ncl_medic (@ncl_medic) January 23, 2016
But the Middlesex musician wasn't rattled in the least when a few lights went off and proceeded to perform a rock rendition of The Kinks's You Really Got Me Now as more lights kept going off.
(Take Me Out/ITV)
The potential dates may not have been impressed but there seemed to be a lot of love for him on Twitter.
Big. Al. Get. In. There. Sir. #takemeout
— Vicky Lee (@VickyLeeonTV) January 23, 2016
Single man 4: Big Al from Middlesex. Coming down the love lift to Bryan Adams is your only positive. Light off #takemeout
— Footballparky (@Footballparky) January 23, 2016
Go on big Al!! #takemeout
— Kyle Heaney (@heaney_kyle) January 23, 2016
Big AL!! What a catch he is! #TakeMeOut @PaddyMcGuinness
— RHYS (@RhysRav) January 23, 2016
(Take Me Out/ITV)
Then in the final round, Big Al proceeded to explain he LOVED America, motorbikes and music and, unfortunately for him, all the lights went off, resulting in a total blackout.
It's a blackout for our American-loving cowboy – time to head 'em up and move 'em out Big Al. #TakeMeOut pic.twitter.com/hbaNfeNx1g
— Take Me Out (@takemeoutuk) January 23, 2016
And Twitter couldn't help feel sorry for him.
So gutted for Big Al #takemeout
Oh dear Big Al! #takemeout
— Mandy K-G (@MandyKG14) January 23, 2016
Aw big Al!
Awww poor Big Al! Someone give that guy a hug #takemeout
— Alison (@allyalejandro) January 23, 2016
Get the latest updates, reviews and unmissable series to watch and more!
Thank you for signing up to Whattowatch. You will receive a verification email shortly.
There was a problem. Please refresh the page and try again.