Tenderness of the Wolves (1973) | Blu-ray release - The powerful German serial killer drama restored and unleashed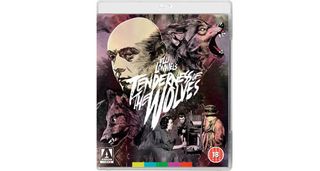 From Arrow Video comes the rarely seen early-1970s German serial killer drama, loosely based on the true story of Fritz Haarmann, aka the Butcher of Hanover. Produced by Rainer Werner Fassbinder and directed by Ulli Lommel, Tenderness of the Wolves is now out on Blu-ray and DVD following a restoration by the Rainer Werner Fassbinder Foundation.
Haarmann was responsible for the murders of 24 boys and young men during the so-called 'years of crisis' between the two world wars in the Lower Saxony capital, before being executed in 1925. His grisly case partly inspired Fritz Lang's 1931 classic M (starring Peter Lorre) as well as this near-forgotten gem from 1973.
Baby-faced and shaven-headed, Haarmann (Kurt Raab, giving a superbly understated performance) is a repellent, yet fascinating figure. Using his status as a police informant to procure his young victims – mostly runaways and street vagrants, he dismembers their bodies, then sells their flesh on the black market to his friends and neighbours.
While not easy viewing, Tenderness of the Wolves certainly gets under the viewer's skin as Lommel brilliantly utilises the true-crime thriller genre to make some sharply satirical and disturbing socio-political points on how poverty creates the climate of indifference in which Haarmann is able to carry out his killing spree.
A host of special features have been especially created for Arrow's release, including a commentary, introduction and a chat with director Ulli Lommel; interviews with cinematographer Jürgen Jürges and actor Rainer Wil; and an informative look at the making of the film by genre expert Stephen Thrower; plus a stills gallery, theatrical trailer and collector's booklet.
http://www.youtube.com/watch?v=FeepoV5E0B0
Get the latest updates, reviews and unmissable series to watch and more!
Thank you for signing up to Whattowatch. You will receive a verification email shortly.
There was a problem. Please refresh the page and try again.