The 10th Victim | On Blu-ray & DVD - Ursula Andress slips into another iconic bikini in the cult 1960s sci-fi satire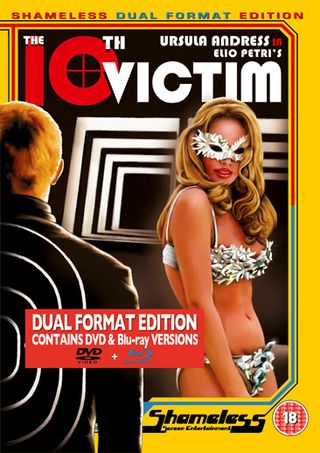 Ursula Andress (opens in new tab), voted the greatest Bond Girl ever, sports another iconic bikini, and this time it literally kills! Set in the near future, the 1965 sci-fi satire opens with Andress's Caroline Meredith killing her penultimate victim in The Big Hunt, a reality-TV style game show which selects both 'Hunter' and 'Victim' from participants; the two then chase one another around the globe: kill your 10th victim and you win millions. Andress's final victim is the cool, sun-loving Marcello (Marcello Mastroianni (opens in new tab)) who also needs to notch up another kill!
With its 1960s Pop Art stylings and gorgeous Rome locations, Italian director Elio Petri (opens in new tab)'s The 10th Victim (opens in new tab) ranks alongside The Running Man, Rollerball and The Hunger Games as one of the most unique takes on dystopian-set gladiatorial-styled death shows, and frightening pre-empts today's deman for increasingly outrageous reality-TV shows.
The Shameless Screen Entertainment (opens in new tab) dual format release (opens in new tab) features a restored widescreen print of the film, with a choice of English or Italian audio with subtitles. The special features include an interview with UK film critic Kim Newman and Paola Petri (the late director's wife), trailers and photo gallery.
If you want to know more about this must-see sci-fi satire, take a look at Pete's full review (just click here (opens in new tab) http://youtube.com/v/uiJ6oghRqKY
Get the latest updates, reviews and unmissable series to watch and more!
Thank you for signing up to Whattowatch. You will receive a verification email shortly.
There was a problem. Please refresh the page and try again.