The Buddy Holly Story and other days the music died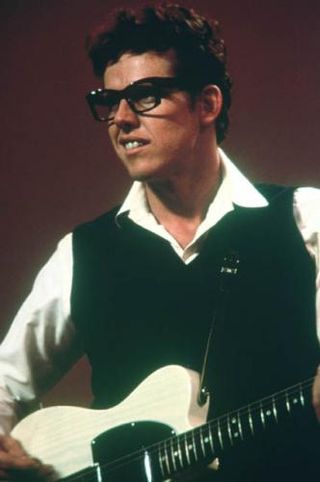 Couch Potato Pickings
On BBC4 tonight at 10.05pm
Tonight's biopic of 1950s rock 'n' roll legend Buddy Holly is not only entertaining and exciting but it features brilliant performances from Gary Busey, Don Stroud and Charles Martin Smith as Holly and his band, The Crickets. http://youtube.com/v/N50WSWxIYk4 Buddy Holly died in a fatal plane crash in February 1959, along with Richie Valens and the Big Bopper, subsequently inspiring Don McLean's famous 1971 ballad American Pie. But, that wasn't the only day the music died. A disturbing number of musicians have perished in plane crashes – all in private jets it seems. Clearly, far too many people chose to put busy schedules before safety.
Glenn Miller (The Glenn Miller Story)
This American jazz musician, arranger, composer and band leader, best known for In the Mood, Chattanooga Choo Choo and Moonlight Serenade, boarded a plane in 1940 to fly from the UK to France, and was never seen again.
Best known for the song La Bamba, this American singer-songwriter and guitarist was killed with fellow musicians Buddy Holly and JP "The Big Bopper' Richardson in a plane crash on 1959. He was aged just 17.
Best known for her hits Crazy, I Fall to Pieces and Sweet Dreams, American country music singer Patsy Cline was for many years troubled by a sense that she would die young and suffered a near-fatal car accident two years before her death in a plane crash on March 3rd 1963.
This American country singer-songwriter is best known for songs such as He'll Have to Go and Welcome to My World. He died in 1964 in a plane he was piloting. He was taught by the same instructor that taught the pilot of Patsy Cline's plane…
Otis Redding (Remembering Otis)
This American soul singer is best known for Try a Little Tenderness and (Sittin' On) the Dock of the Bay. He and four of his backing band died in a plane crash in 1967. He was aged just 26.
Ronnie Van Sant (Freebird…The Movie)
The leading member of American southern rock band Lynyrd Skynyrd, best known for Sweet Home Alabama, died in 1977. The band boarded a plane for Louisiana but the craft ran into difficulties en route and Ronnie Van Sant was killed on impact.
Best known for his rockabilly songs such as Hello Mary-Lou and ballads such as Teenage Idol, this American singer and actor died in 1985 aged 45 when he and his band boarded a plane after a show. It crashed on the way from Alabama to Texas.
John Denver (Take Me Home: The John Denver Story)
This American country and folk singer-songwriter, best known for Leaving on a Jet plane, Take Me Home Country Roads and Annie's Song, died in 1997 aged 53 when the craft he was piloting crashed.
This American pop singer and actress, best known for her roles in Romeo Must Die and Queen of the Damned, and her singles Miss You, I Care 4 U and More Than a Woman, died in 2001 aged 22 when she and her crew boarded a plane back to the US after wrapping early on a music video shoot in the Bahamas.
Thank you for signing up to Whattowatch. You will receive a verification email shortly.
There was a problem. Please refresh the page and try again.