The Hairy Bikers: 'It's the best State-sponsored pub crawl we've ever been on!'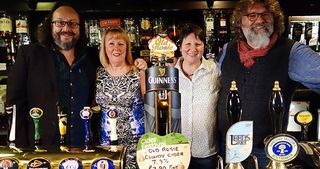 (Image credit: BBC)
Hairy Bikers Dave Myers and Simon King tell TV Times what happened when they ditched their beloved bikes and set out to find Great Britain's greatest public houses.…
You must have thought you'd died and gone to heaven when the BBC asked if you were free to go on a pub crawl….
Dave: "They asked if we'd like to explore the colourful history of our country's favourite watering holes. Er, yes!"
Si: "It's epic - the best State-sponsored pub crawl we've ever been on! We're the obvious candidates although it has sadly meant leaving the bikes at home. We couldn't have shots of us stood next to them with soft drinks in our hands, could we?"
In your new 15-part BBC2 series, The Hairy Bikers' Pubs That Built Britain (Tuesdays), you meet landlords, experts and locals who are determined to keep alive pubs which have been at the heart of communities for years. Why is it important we do that?
Si: "So much of our national identity is tied up with pubs. There's a story behind each one. From the pubs in York that were drunk dry the night before the bloodiest battle of the English Civil War, to the smugglers' pubs in Cornwall and the political pubs of Manchester – so much of our social history and development began with a pub and a pint."
Dave: "And did you know 30 pubs close down each week? So as well being a fascinating watch we hope the series will encourage communities to use their local boozer; don't ignore it else it'll disappear. Cherish it, start a Knitting Night – use it or lose it!"
What is your favourite British boozer?
Dave: "The Queens Arms at Biggar, Cumbria. It's my local, a proper community pub – we've even got a Sewing Night! A few of us are going to start brewing our own beer. I'm not sure we'll ever make a profit, but we'll sure drink the dividends!"
Si: "The Free Trade Inn – a Newcastle institution. It's got a fantastic view of the River Tyne, sells great local beer and is packed with a mad, eclectic mix of poets, musicians and locals. It hasn't changed in the 35 years I've been going."
Favourite beer?
Dave: "Innis & Gunn bottled beer."
Si: "A bitter called Mordue Workie Ticket. Great name, eh?"
Favourite pub grub?
Dave: "Shepherd's Pie."
Si: "Mince and dumplings."
What are you like at pub quizzes?
Dave: "Brilliant! I won Celebrity Mastermind, remember. Have I mentioned that before, Si…?"
Si: "No, I've never heard that one, Dave! Just a million times…"
Dave: "Si's good at sport and music questions and I do the rest. It's like everything in life with us – we fill the holes that the other one's got!"
Number of pints drunk making this series?
Si: "483."
Dave: "484. I had one more than him."
Darts or snooker?
Dave: "Snooker."
Si: "Darts. I'm pretty good."
Dave: "I'm pretty rubbish at both actually!"
Favourite pub trick?
Dave: "A Depth Charge – you drop a shot glass in a pint of beer and drink. Messy."
Si: "I like The Elephant Trick, but as it's TV Times I'll keep it clean! Cardinal Puff, which is basically a follow-me game and if you get it wrong you have to drink."
Best date you've ever had in a pub?
Dave: "I once took a woman called Liliana to my local on the old fellas' domino's night. A mate at the bar hijacked me and I've got a photo of Lili abandoned, sitting playing dominoes with the old boys. Luckily, she still married me."
Si: "The best pub date was when I walked into the Egypt Cottage pub in Newcastle in 1995 and met Dave playing pool. Our lives changed forever!"
Get the What to Watch Newsletter
The latest updates, reviews and unmissable series to watch and more!