7 things you didn't know about legendary comedy Friends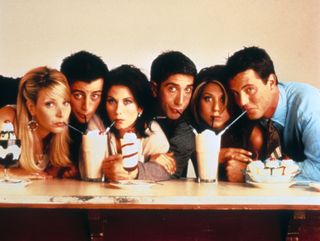 (Image credit: EMPICS Entertainment)
Could we BE anymore surprised?!
Friends may have finished way back in 2004, but comedy fans still can't get enough of Rachel Green (Jennifer Aniston), Monica Geller (Courteney Cox), Phoebe Buffay (Lisa Kudrow), Joey Tribbiani (Matt LeBlanc), Chandler Bing (Matthew Perry), and Ross Geller (David Schwimmer).
The iconic comedy, set in New York, ran for an incredible 236 episodes, and shot its six leading actors to global stardom. But how much do you really know about the show?
Here's 7 things you didn't know about Friends...
1. Friends wasn't originally called Friends!
When the writers penned the first seven page pitch for the show in 1993, it wasn't titled Friends but the rather bizarre sounding Insomnia Café. So, then it was called Friends? No, then the show was called Friends Like Us. And then it was called Six of One! And at the beginning the central love interest of the show was going to be between Joey and Monica - Ross and Rachel were just a dream... Luckily, the makers finally stuck on the name Friends.
2. The show's bosses were worried about Monica's one-night stand!
In the first episode of Friends, Monica has a one-night stand with Paul the wine guy. But TV bosses were nervous about the scene and were worried that audiences wouldn't like Monica. However, when they tested the scene with audiences they loved Monica, so it stayed in!
3. Courteney Cox was offered the part of Rachel
Yep, Courteney was offered the part of Rachel, but she asked if she could instead audition for Monica. Luckily for Friends fans, the show's bosses swung over to her idea and the rest is history.
4. Jennifer Aniston didn't like 'The Rachel' hairstyle
Women around the globe were asking hairdressers to have their barnet just like Rachel's, but Jennifer Aniston confessed in an interview with Allure that she wasn't a fan. "I think it was the ugliest haircut I've ever seen. What I really want to know is, how did that thing have legs? Let's just say I'm not a fan of short, layered cuts on me personally, so I don't love revisiting that particular era." Jennifer also added in a chat with Glamour that she found looking at old pictures of it "cringey". Ouch!
5. Lisa Kudrow played a key role in her famous song Smelly Cat
When Lisa answered questions from fans on Reddit, she chatted about the part she played in Phoebe's famous song Smelly Cat. "The writers wrote it, I wrote the tune, and had a little help from Chrissie Hynde. She was amazing."
WHAT IS ON TONIGHT? Check out our NEW and improved TV Guide
6. Gunther was originally just an extra
Central Park barista Gunther was a fan favourite, but James Michael Tyler recently explained on American TV show Today that he started out just as a background artist.
"Well I wasn't cast, I came in as an extra on the first season… they didn't create Gunther until midway through the second season," he revealed. James at last got a line as Gunther in episode 33, but it was just "Yeah".
MORE: Who's Who's Guide to His Dark Materials
7. The Friends title sequence wasn't entirely planned
Yep, we all love the Friends opening sequence where the cast end up messing about in a fountain. However, series set decorator Greg Grande says that part wasn't in the script. "To my best recollection, that wasn't a scripted thing," he told Entertainment Weekly. "It was more impromptu. As [the actors] got later into the evening, they had more fun with the back and forth.
"They were just happy to hang out and have a few cocktails, probably. I don't want to say who started it, but one of them did and they ended up inside the fountain."
Main picture: EMPICS Entertainment.
Get the latest updates, reviews and unmissable series to watch and more!
Thank you for signing up to Whattowatch. You will receive a verification email shortly.
There was a problem. Please refresh the page and try again.