His Dark Materials - who's who guide to BBC1's epic new fantasy drama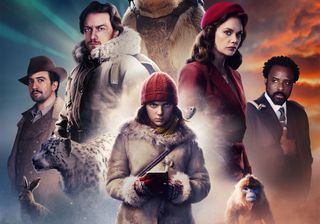 (Image credit: BBC/Bad Wolf/HBO)
James McAvoy and Ruth Wilson are among the star cast of this eagerly-awaited adaptation of His Dark Materials...
His Dark Materials, BBC1's lavish new adaptation of Philip Pullman's best-selling trilogy, promises to be one of the TV highlights of the year.
The eight-part adaptation tells the story of Lyra, who lives in a parallel universe in which science, theology and magic are entwined...
Here's our who's who guide to the key characters in BBC1's new fantasy epic His Dark Materials, which starts tonight
Lyra Belacqua (played by rising star Dafne Keen)
Adventurous 13-year-old Lyra is an orphan, who's been raised in the quiet sanctuary of Oxford's illustrious Jordan College with her daemon Pantalaimon. Lyra is anxious to explore the North with her Uncle Asriel, but fate intervenes and she ends up on her own dramatic journey. "She's very intelligent, street smart, and she's brilliant. I love her. She's a tomboy, definitely. When we first meet her she is racing with her best friend, Roger and she's all energy," says Dafne.
Lord Asriel (The X Men's James McAvoy)
A highly driven explorer and a wonderful scholar, Lord Asriel makes an incredible discovery that could change everything. He has seemingly limitless ambition and he will stop at nothing to achieve his goals. "Lord Asriel Belacqua was a high-flying nobleman in his youth, but I lost all my land and everything was taken away from me by the Magisterium, by the church. My life was very much changed and by the time I become the 40-year-old person that I am now, I've become quite hateful and doubtful of organized religion: their doctrines, and their beliefs, and their motives," says James.
WHAT IS ON TONIGHT? Check out our NEW and improved TV Guide
Mrs Coulter (Luther's Ruth Wilson)
Secretive and glamorous, no one knows what her motives truly are. She is highly intelligent and always needs to be in control. Mrs Coulter manages to get Lyra to come away with her, but why? "She's obsessed with Lyra and you soon find out why. She's not a very nice woman, but we delve in deep with her. I think it all comes from a place of trauma with her so, in my eyes, she's misunderstood. Either way, she does some pretty horrific things," explains Ruth.
The Master (The Wire's Clarke Peters)
Dr Carne is the Master of Jordan College and Lyra's guardian. He tries to protect Lyra as she grows up in Oxford, but then the forces of the outside world threaten to wreck everything. But is he a goodie or a baddie? "That was my question as well. You don't know whether he's a good guy or a bad guy. You don't know whether he's doing things for the protection of his charge, of the young girl, or whether he's doing it for the protection of the universe: in order to save the world, you might have to sacrifice one person," teases Clarke.
Lee Scoresby (Mary Poppins Returns actor Lin-Manuel Miranda)
Lee is an adventuring balloonist who can keep his head in a crisis. He joins Lyra on her epic quest later in the series. "I would say he's a good guy and a rascal at the same time. He's not above picking a pocket, he's not above doing bad things to achieve good ends: he's a cowboy," says Lin-Manuel.
Ma Costa (played by The Virgin Queen's Anne-Marie Duff)
A high-ranking Gyptian, Ma Costa is shocked when her youngest son Billy disappears… and he's not the first child to go missing. Now, can the Gyptian people find a way to rescue them? "Inside the world of the novels Philip Pullman has created this tribal world, so there are these different factions. One of them obviously is Lyra inside the university with all the academics and the members of the Magisterium. There's another group, a very cool group, called Gyptians who are this mishmash of travelers, gypsies and boat people. That's all meshed together to make these really interesting, slightly exotic people who are constantly on the move," explains Anne-Marie.
When is His Dark Materials on BBC1?
The series kicks off on BBC1 on Sunday 3rd November at 8pm on BBC1. It's eight episodes long and the rest of the series is expected also to be shown on Sunday nights.
Get the latest updates, reviews and unmissable series to watch and more!
Thank you for signing up to Whattowatch. You will receive a verification email shortly.
There was a problem. Please refresh the page and try again.