His Dark Materials' Dafne Keen – everything you need to know about the young star of BBC1's fantasy epic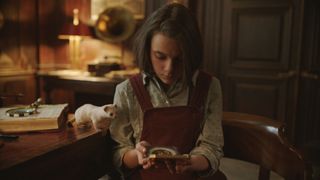 (Image credit: BBC/© Bad Wolf/HBO)
'Lyra is a very curious, cunning, and adventurous girl,' says Dafne
Dafne Keen is the 14-year-old star of His Dark Materials, BBC1's lavish new adaptation of Philip Pullman's bestselling trilogy, which starts tonight.
The young British and Spanish actress, who was born in Madrid and is the daughter of actor Will Keen and Maria Fernandez Ache (who was an acting coach on His Dark Materials and appeared in Holby City), already has some screen experience.
She played the daughter of Wolverine in the 2017 film Logan, which starred Hugh Jackman and Patrick Stewart, and she also appeared as a character called Ana with her dad in the 2014 TV series The Refugees.
However, His Dark Materials is Dafne's biggest role to date and she's excited by the fact that a young girl is the heroine of the story, which also stars Ruth Wilson, James McAvoy and Clarke Peters.
"For me, the stand-out thing is that the main character is a young girl. It's also I think darker and it goes very deep. If a nine-year-old watches it, he's only going to see the adventure part, but then if an adult sees it, they're going to see all the layers and everything that it has," she says.
WHAT IS ON TONIGHT? Check out our NEW and improved TV Guide
Describing Lyra, who embarks on a hugely dangerous journey in the eight-part series, Dafne says: "Lyra is a very curious, cunning, and adventurous girl. She's very intelligent, street smart, and she's brilliant. I love her. She's a tomboy, definitely. When we first meet her she is racing with her best friend, Roger and she's all energy.
"Then, that changes. She's still energetic, but she's more dark by the end of the show. The thing that most describes Lyra for me is a line that Ma Costa says in the books.
"When Lyra says something about her wanting to be a Gyptian she says: 'You're not a Gyptian Lyra. Gyptians are water people and you're marsh fire.' That's the thing that described Lyra for me the most."
MORE: His Dark Materials - Who's Who Guide to the series
Dafne adds that she loves the show's amazing sets. "They are so detailed. You go somewhere and you think: 'Wow.' It's like they have every single switch in Asriel's lab, every last detail that you wouldn't even see on camera. It actually really helps, acting-wise, to have all of those things around you. My favourite set is Lyra's bedroom.
"I love it, it's brilliant. I also love the barges and Trollesund was amazing. They built the whole town from scratch and you would be walking around going: 'Wow, there's a motel. Oh, look, there's a weird lake with blood in it.' It was brilliant."
One thing viewers will have to get their head around is that the characters have a daemon, which is an animal version of their inner self. "It was a bit overwhelming to get your head around it at the beginning," admits Lyra.
But she can now explain what a daemon is. "It's the expression of your soul and when you're a child, it changes because you still change and then it fixes when you're an adult in to what most looks like your personality. Lyra is a kid so her daemon still changes, but it's mostly an ermine and his name is Pantalaimon."
As to the biggest challenge of the series… "Probably the heat! The heat from when we were in Oxford and I was having to be in like a woollen dress and then a fur coat."
His Dark Materials, starring Dafne Keen as Lyra, starts on BBC1 this Sunday at 8pm.
Get the latest updates, reviews and unmissable series to watch and more!
Thank you for signing up to Whattowatch. You will receive a verification email shortly.
There was a problem. Please refresh the page and try again.