Keith Lemon: 'I break loads of things in celebs' houses!'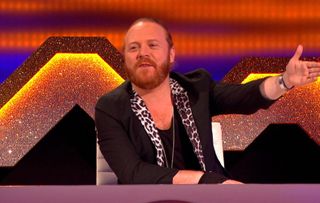 Keith Lemon is back on Through the Keyhole tonight, and the presenter has admitted to wreaking havoc in the mystery celebrities' houses...
Keith Lemon has revealed he is a huge fan of one of his guests in the new series of Through The Keyhole.
The show kicks off on ITV tonight and will see Keith let loose in the homes of three mystery celebrities, where he will unearth vital clues to help the star-studded panel guess "who lives in a house like this".
Speaking about one of his first Keyhole guests, Keith said: "I took my clothes off and got in her bed, but I do that in every lady's house I go to. She's insane.
"I put on Mel B's bikini once."
Keith, who has presented the popular show since 2013, also revealed his dream Through the Keyhole guest is Jonathan Ross, as he would like to visit his house over Halloween.
He said: "I'd like to do Jonathan Ross's house at Halloween. I'd also like to do Simon Cowell's house."
And Keith, who is renowned for getting up to mischief on Through the Keyhole and on the Celebrity Juice panel, admitted he often wreaks havoc in the celebrities' houses.
He said: "I break loads of things but we always replace it. Sometimes we buy something that's identical to what they have and we break it as a joke.
"We have got some big names this series."
Through the Keyhole starts tonight at 9:35pm on ITV1
Thank you for signing up to Whattowatch. You will receive a verification email shortly.
There was a problem. Please refresh the page and try again.