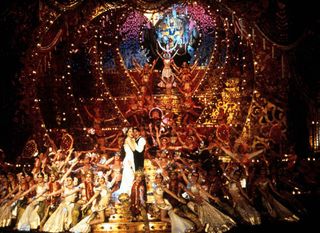 Chosen by Olivia Lohoar Self
We all know that cinema is a visual medium. But some films are merely easy on the eye, while others put style over substance. Selected here are ten films, wonderful to watch and aesthetically impressive, which we believe to be visual feasts!
1. Moulin Rouge
As visually beautiful as the tragic love story it depicts. Moulin Rouge delivers a truly spectacular (spectacular!) display. Director Baz Luhrman's signature theatrical style does not disappoint in capturing the dazzling allure of bohemian Paris. The extravagance of courtesan Satine's (Nicole Kidman) sparkling world is vividly present, with plush red velvet and bright lights at every turn. Yet the film avoids tackiness and creates a magnificent visual feast.
2. The Grand Budapest Hotel
The Grand Budapest Hotel is a work of art in its own right. The colour, symmetry, and construction of every scene make Wes Anderson's film a masterpiece. Each scene presents a real colour pop, adding to the absurdity and comedy, while being a real sweet treat to the eye. The story's fictional bakery, Mendl's, creates delicious cakes, and the hotel itself, surrounded by picture-perfect mountains dusted in icing sugar snow, looks as though it could be one of their cakes. The crisp carefully constructed nature of the film adds a slightly surreal quality; making it feel at times as if you are watching the inhabitants of a doll's house or even a kind of Disneyland.
3. Avatar
James Cameron's Avatar marked a landmark in 3D cinema, taking the cinematic experience to a new level of immersive spectacle. The film's plot may not be groundbreaking, but visually it certainly is, creating an impressive utopian world of the planet Pandora inhabited by the iconic blue Na'vi aliens. And it delivers on a range of levels, from the fast-paced fighting scenes to the magically vivid jungles, all of which turn the story into an out-of-world experience for the viewer.
4. Willy Wonka and the Chocolate Factory
Willy Wonka and the Chocolate Factory takes the idea of a visual feast literally. You can't help but feel your mouth water slightly while watching, wishing that the sweet filled rooms were more than pure imagination. The panning shot on entering the first room of the factory allows you to marvel at sweets upon sweets upon sweets. Everywhere you look there are edible delights: candy cane trees, lollipop foliage, a chocolate river. Incredibly inventive, the scenery captures the mood perfectly; big bright and exciting at first, yet with slightly sinister elements later on.
5. Sin City
Total sensory overload is the order of the day in this jaw-dropping adaptation of Frank Miller's comic book noir. Co-directed by Robert Rodriguez and Miller himself (with one scene reserved for buddy Quentin Tarantino), it interweaves three stories into one relentless thrill-ride down the mean streets of Basin City, a festering hellhole of vice and corruption. Filmed almost entirely by digitally imposing the actors onto black-and-white CGI backdrops with only isolated bursts of colour, the film creates an environment that is at once otherworldly yet curiously familiar.
6. Life of Pi
Ang Li's sumptuous adaptation of Yann Martel's Booker-winning fable about a boy and a tiger are stranded together on a lifeboat, Life of Pi unsurprisingly picked up Oscars for its cinematography and wholeheartedly spectacular visual effects. Their brilliance allows you to immerse yourself within its magical plot and the novel translates surprisingly well onto screen. The film wows us with its depiction of nature. The images of sky, sea and land are dazzling, but perhaps the biggest marvel is the tiger who - thanks to CGI wizardry - shares the boat with Suraj Sharma's boy, making the surreal seem real.
7. The Matrix
Cool, slick and surreal, The Matrix will dazzle you - and leave you wanting to go round in long leather coats and dark glasses. The fight scenes are stunning, varying from hand-to-hand combat at fast-forward speed, to bullet dodging in slow motion. Stuffed full of references to Greek myth, The Bible, Alice in Wonderworld and The Wizard of Oz, the Wachowski Brothers' extravagantly over-the-top sci-fi action thriller still leaves the viewer reeling.
8. Scott Pilgrim vs. the World
Scott Pilgrim vs. the World is refreshingly different. Awash with video-game imagery and brimming with pow's, bam's and boom's, this is a film that's snappy, bold and funny. The wacky duels fought by Michael Cera's geeky hero play out like the levels in an arcade video game, yet when his defeated foes explode into showers of coins, gamers and non-gamers alike will thrill to the spectacle.
9. Inception
Christopher Nolan's sci-fi thriller dazzles the eye and boggles the brain! And with effects that are as complex as the plot - witness the spectacle of the Paris cityscape rising up and then folding in on itself; or Joseph Gordon-Levitt's zero-gravity fight - this is a film you can enjoy even if you can't keep up with the storyline.
10. The Nightmare before Christmas
Spooky yet enchanting, this ghoulish seasonal confection about the mayor of Halloweentown's fiendish scheme to take over Christmas is a stop-motion animation treat. Its fantasy world may be dark and scary, but director Henry Selick - who went on to make James and the Giant Peach and Coraline - breathes such life into Tim Burton's spindly figures that the film is a real delight to watch.
Thank you for signing up to Whattowatch. You will receive a verification email shortly.
There was a problem. Please refresh the page and try again.