Trinny Woodall: Drugs turned me into a 'fake, lying, thieving, cheating person'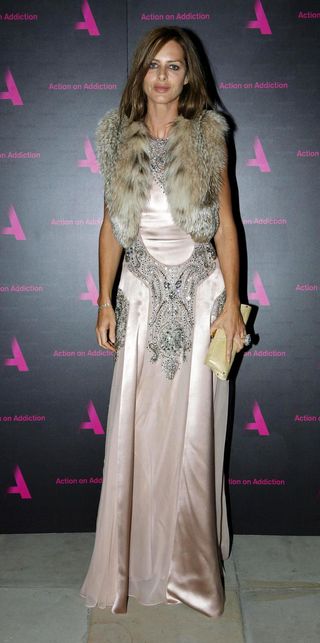 Trinny Woodall has revealed how alcoholism and cocaine addiction turned her into a 'fake, lying, thieving, cheating person'.
The star, who has recently been linked with millionaire art collector Charles Saatchi after the pair were pictured together, said she was 'an alcoholic' and 'an addict'.
Mr Saatchi is currently involved in a court case against two former employees accused of defrauding him and his ex-wife Nigella Lawson.
On Tuesday the court heard how Charles referred to Nigella as 'Higella' and accused her of being so off her head on drugs that she allowed the pair to spend the couple's money on whatever they liked.
Writing in The Spectator, Trinny said she first took cocaine because she 'wanted to be cool'.
She first went into rehab aged 21 after an overdose, but carried on taking on drugs and started drinking heavily.
She said: "I drank a bottle of vodka a night, with cocaine and pills. And I started to get into trouble. Not the kind of trouble that ended in prison, but it ended up with me feeling lonely and isolated.'
The star, who teamed up with Susannah Constantine to present award-winning BBC makeover programme What Not to Wear, said she started to turn her life around when she was 26.
She said: "I began to build the foundation of my life today. Different from the fake, lying, thieving, cheating person I had been. I wasn't a bad person becoming a good person. I believe I was a sick person, and I needed to get well. And the belief that I had a disease helped me to get through it. It has not been an easy journey."
Get the latest updates, reviews and unmissable series to watch and more!
Thank you for signing up to Whattowatch. You will receive a verification email shortly.
There was a problem. Please refresh the page and try again.