TV Premiere | Tropic Thunder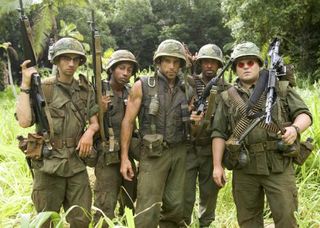 From today on Sky Box Office, and also currently showing on FilmFlex
I had mixed feelings after seeing Tropic Thunder and it took me a little while to figure out why. But here it is: I find Ben Stiller incredibly irritating but I admire Robert Downey Jr a lot. So to see them in the same movie, in scenes together, left me a little confused.
I really only got to the end thanks to Downey Jr's hilarious Aussie method actor. And it got me remembering all the other great movies he's been in. Here are my top five:
1. Kiss Kiss Bang Bang 2. The Singing Detective 3. A Scanner Darkly 4. Chaplin 5. Charlie Bartlett
…and I rather look forward to seeing him as Sherlock Holmes.
Watching Ben Stiller on the other hand is always a bit like having Delhi belly while stuck in a window-seat on a plane...next to a really large person...who is fast asleep...snoring heavily...even though a child is screaming and crying in the seat in front.
Here are my top five Ben Stiller movies, reminding me of hours of my life I will never get back:
1. Along Came Polly 2. Zoolander 3. Meet the Parents (& Meet the Fockers) 4. There's Something About Mary 5. Dodgeball: A True Underdog Story
I could go on…
Get the latest updates, reviews and unmissable series to watch and more!
Thank you for signing up to Whattowatch. You will receive a verification email shortly.
There was a problem. Please refresh the page and try again.