Warwick Davis: 'I liked it when the Tenable contestants argued amongst themselves!'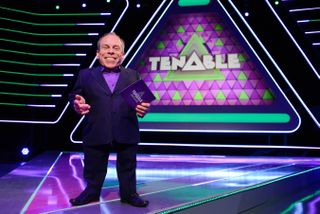 Warwick Davis reveals all about his ten-tastic new teatime quiz Tenable!
Could you name the last 10 Labour leaders or the nation's 10 best-selling bottled ales? Then ITV's Tenable is the quiz for you.
Hosted by Warwick Davis, the show sees teams of contestants try to complete lists of 10 items and win up to £100,000. We asked Warwick what's in store…
How would you describe Tenable? "Each episode has a team of five people who have to complete lists of 10 things to win up to £100,000. They're not necessarily all top 10s, it could be first 10s or last 10s or even most valuable 10s from the first 10 Mr Men books to be published to the 10 sweets that are in a Celebrations tin. We even had a question about the first 10 actors credited in Harry Potter and the Deathly Hallows Part One. They thought I was on the list but I kept a poker face!"
How tough is it? "It is quite hard to get a perfect 10. Getting the first couple of answers is easy but finding the last is difficult. You can really play along at home because when I showed the pilot episode to my friends and family, they were rowing over answers and screaming at the contestants, 'Why don't you know this?!'"
Do you really root for the teams? "Oh yes, we had some lovely teams from different backgrounds and I wanted to see them all win because they can get life-changing amounts of cash. I could work out who'd do well though. Some of them had swotted up but you need a strategy too as the captain chooses who does each round and if they get that wrong they can end up in a mess. I liked it when they argued amongst themselves!"
How would you do? "As I was hosting I was thinking, 'I wonder what's on this list?' because I preferred to not know the answers in case I gave one away. With the Mr Men one, I thought I'd nail it but there was a Mr Snow who I've never heard of! Science, nature and movies I'm good at, such as the highest-grossing movies of the 1980s - I was in a few of them! But when it comes to politics and football, I can't even pronounce the names."
Will you be doing more travelogues with your family? "We'd like to but my daughter Annabelle is filming CBBC's The Dumping Ground for most of the year and it wouldn't be the same without her. We might do a one-off trip to see how we all get on with each other now we are a bit older. We still have the camper van!"
What else have you got coming up? "I've done a Christmas episode of Jonathan Creek. I love TV detectives, and I play a character who enjoys helping Jonathan. I have also got another Christmas show on BBC2 called The Entire Universe with Eric Idle, Professor Brian Cox and Noel Fielding. It's ridiculous but also educational about space. Then I'm in Rogue One, the next Star Wars film, which is out in December. Star Wars was where it started for me in 1981 so I have come full circle. When I'm in the studio, I'm like a fan and stand there looking at the props!"
Tenable airs on ITV from Monday 14th November at 3pm.
Caren has been a journalist specializing in TV for almost two decades and is a Senior Features Writer for TV Times, TV & Satellite Week and What's On TV magazines and she also writes for What to Watch.
Over the years, she has spent many a day in a muddy field or an on-set catering bus chatting to numerous stars on location including the likes of Olivia Colman, David Tennant, Suranne Jones, Jamie Dornan, Dame Judi Dench and Sir Derek Jacobi as well as Hollywood actors such as Glenn Close and Kiefer Sutherland.
Caren will happily sit down and watch any kind of telly (well, maybe not sci-fi!), but she particularly loves period dramas like Call the Midwife, Downton Abbey and The Crown and she's also a big fan of juicy crime thrillers from Line of Duty to Poirot.
In her spare time, Caren enjoys going to the cinema and theatre or curling up with a good book.
Get the latest updates, reviews and unmissable series to watch and more!
Thank you for signing up to Whattowatch. You will receive a verification email shortly.
There was a problem. Please refresh the page and try again.