'We'd have been stupid boys not to do it!' Blake Harrison and Daniel Mays talk Dad's Army (VIDEO)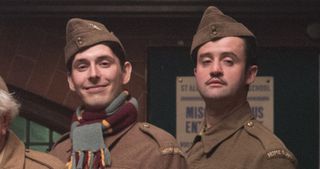 (Image credit: Alex Bailey)
Blake Harrison and Daniel Mays quipped that they'd have had to been 'stupid boys!' not to take the opportunity to appear in the Dad's Army movie, the reboot of the classic 1970s sitcom.
The Inbetweeners star Blake plays molly-coddled Private Pike while Mrs Biggs star Daniel is wheeler-dealer Private Walker, roles made famous by Ian Lavender and the late James Beck.
Blake told What's on TV: "Having someone say to you you've got the opportunity to work with people like Michael Gambon and Billy Nighy and Catherine Zeta-Jones, and people like that, it just makes the decision to take the job incredibly easy. You'd be a stupid boy not to do it!"
They felt some anxiety tackling such famous characters, but Blake added: "It is pressure taking on these kinds of role, but also you're trying to make it your own and this film is a celebration of what the sitcom was and also taking it in a slightly different direction, because we throw these characters into more dangerous situations and see them cope with jeopardy on a much larger scale."
Daniel said: "Dad's Army is such an iconic show, isn't it? It's up there with Fools & Horses, Porridge and Fawlty Towers. We were under no illusions, Blake and I and collectively the whole group, that it was a huge responsibility and big shoes to fill. But a great challenge, really. A mix of trepidation and great excitement to reboot this show and give it to a whole new audience... and a nostalgic trip back to the existing Dad's Army fans."
The new Dad's Army is set in 1944 and there is a spy reported to be lurking in Walmington-on-Sea. Clearly, the only people capable of dealing with the threat is the local Home Guard... See the results in cinemas from Friday, February 5.
Watch the interview with Blake Harrison and Daniel Mays, above."]
Get the latest updates, reviews and unmissable series to watch and more!
Thank you for signing up to Whattowatch. You will receive a verification email shortly.
There was a problem. Please refresh the page and try again.