What Alison Steadman WOULDN'T do for her new wildlife documentary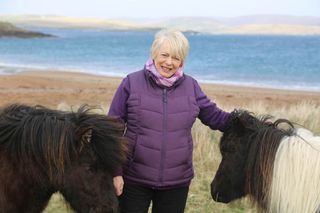 Alison Steadman was keen to try everything out when she visited Shetland for a new ITV documentary, from otter spotting at dawn to sea kayaking and foraging for razor clams.
But the Gavin And Stacey actress put her foot down when she was asked to take a dip in the bitterly cold sea - with a local pony in tow.
"Before the director went to the islands, he said, ''There's this girl and she swims with a Shetland pony in the sea, would you be prepared to do that?' And I said, 'What?'." recalled Alison (opens in new tab).
"I can swim and I love the sea, and I love Shetland ponies, but I just knew that the temperature was going to be minus something or other in the sea.
"I'm nearly 68, I'm a pensioner!" she exclaimed. "I'm not 21 any more."
Alison was very fond of the pint-sized ponies, but admitted that even feeding them proved nerve-racking.
"A horse will gently take from you. This thing just grabbed the carrot out of my hand! I thought, 'Oh my Lord, I could have had my fingers off, easy'. Thank goodness it was a very big carrot."
Lifelong nature lover Alison had always dreamt of visiting the Shetland archipelago, which spans across about 100 islands and is inhabited by around 23,000 people.
Growing up in the suburbs of Liverpool, a school nature trip at the age of nine cemented her love of wildlife.
"As a child, my favourite thing in the summer was rummaging around for different kinds of caterpillars. My grandma used to know and feed all the birds, so you grow up knowing and listening.
"On the school excursion, we were all on a country walk, going along a country lane and I could hear the blackbirds, so distinctive and loud. So I started impersonating them. I remember the teacher saying, 'That's really good'.
"We had a little party before we were going home, and everyone had to do a turn, sing a song or whatever. My turn was doing birdsong.
"When I think of it now, the teachers must have been stuffing hankies in their mouths laughing…"
Alison Steadman's Shetland (opens in new tab), ITV, Tuesday, June 24, 9.00pm.
– Press Association (opens in new tab)
Get the latest updates, reviews and unmissable series to watch and more!
Thank you for signing up to Whattowatch. You will receive a verification email shortly.
There was a problem. Please refresh the page and try again.