What the new Dad's Army stars love about their characters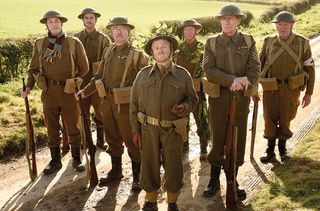 Call it brave, call it foolhardy, call it a remake too far, but a new movie version of Dad's Army is a mission for which only the top brass of British acting need apply.
Pull it off and you'll have earned the eternal gratitude of a nation. Get it wrong and you're doomed…
As the new big-screen version receives its British TV premiere on Sky Movies this week, the stars gives us their full de-brief on the ageless warriors of Walmington-on-Sea's Home Guard.
Captain George Mainwaring
(Toby Jones)
Indefatigable leader of Walmington-on-Sea's Home Guard and local bank manager
"He's such a small-time leader and his strategies and self-aggrandisement are so transparent it doesn't bother anyone," explains Toby. "He never feels sorry for himself, which makes him sympathetic. I imagine him as an old-school guy in his fifties."
Sergeant Arthur Wilson
(Bill Nighy)
Debonair Deputy to Mainwaring in the Home Guard and at the bank.
"Wilson is a very kind, diffident man," says Bill, "but he's found himself off the beaten track. He's deeply fond of his wife Mavis and deeply tolerant of Captain Mainwaring's impossible ludicrousness. He gives the impression of being someone who's never going to be good at anything, but he doesn't too badly at soldiering. He can surprise you."
Lance-Corporal Jack Jones
(Tom Courtenay)
Ever-ready World War I veteran and local butcher
"Jones has a military background but he's not as brave as he makes out," says Tom. "He claims to be an old campaigner but it was only in the Catering Corps so when Mainwaring wants to lean on him as an experienced soldier, he finds it a bit disappointing."
Private James Frazer
(Bill Paterson)
Former Royal Navy sailor and undertaker
"He wants it recognised that he's vastly more experienced than this jumped-up little squit," explains Bill. "He's the only one who's out-and-out critical of Mainwaring. When his bluff is called, he doesn't quite live up to it. The Scots always has a sense of being very much part of the British war effort, but very definitely wanted to be recognised for being separate – there's more than a wee bit of that in Frazer."
Private Joe Walker
(Danny Mays)
Cheeky Cockney spiv who sees the war as a money-spinner
"Walker is your classic rogue," says Danny, "a charmer and a complete ladies man. The inside of his suit jacket is lined with reams of watches and tights. He adds a lot of energy and humour to that group, and he's never frightened to go up against Mainwaring. He's a bit cheeky and can cross that line a little bit. He's a great member of the gang."
Private Charles Godfrey
(Michael Gambon)
Delicate first-aider, who never likes to be too far from a toilet…
"Godfrey speaks very little and he's always smiling," Michael tells us. "He joins in the fun but does everything quite seriously. He walks quite slowly and because he's getting on a bit, he always seems to do the wrong thing. When they say 'Right turn!', he turns left. He's not quite with it.
"He quite likes women and his relationship with his wife is so good, they never talk to each other. They just smile."
Private Frank Pike
(Blake Harrison)
Wilson's nephew and frustrated mummy's boy
"He's very much a mother's boy," says Blake, "and not the sharpest knife in the drawer. Frank's not necessarily stupid but because he's always fantasising about one thing or another, he doesn't really listen. He's a bit of a dreamer. People will be talking and he'll only catch the end of it, say something and they'll look at him like, 'What are you talking about, you massive moron?'"
Thank you for signing up to Whattowatch. You will receive a verification email shortly.
There was a problem. Please refresh the page and try again.