Win the entire Box Set of Spooks with Spooks: The Greater Good - In Cinemas May 8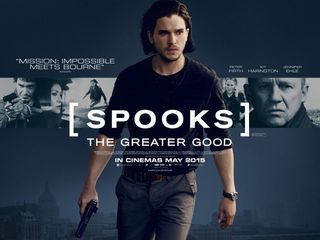 To celebrate the release of Spooks: The Greater Good, in cinemas May 8, we're giving you the chance to catch up on all the Spooks action by winning the series box set.
When charismatic terrorist Adam Qasim (Elyes Gabel) escapes from MI5 custody during a high profile handover, the legendary Harry Pearce (Peter Firth), Head of Counter-terrorism, is blamed. Disgraced and forced to resign, no-one's surprised when Harry disappears one night off a bridge into the Thames…
With MI5 on its knees in the wake of the Qasim debacle and facing controversial reform, former agent Will Holloway (Kit Harington) is brought back from Moscow to uncover the truth they feared – Harry's still alive. He's gone rogue, and needs Will's help.
As Qasim prepares his devastating attack on the heart of MI5 in London, Will must decide whether to turn Harry in - or risk everything by trusting the damaged, dangerous master spy who has already betrayed him once before…
Watch the trailer http://youtube.com/v/hHrizHJ8ObI 3 sets of seasons 1-10 of the TV series to give away. To be in with a chance of winning this amazing prize, watch the trailer and answer the question below. Email your answer and your details (with Spooks in the subject line) to movietalk@timeinc.com
Before Harry Pearce (Peter Firth) disappeared he made... what?
1.    Copies of top-secret files 2.    Three encrypted phone calls 3.    A cup of tea
For further information on Spooks: The Greater Good join us here  www.facebook.com/Spooksthemovie or follow us https://twitter.com/Spooksthemovie
Competition closes 5pm Friday 22 May 2015. Terms and Conditions apply.
Get the latest updates, reviews and unmissable series to watch and more!
Thank you for signing up to Whattowatch. You will receive a verification email shortly.
There was a problem. Please refresh the page and try again.