Categories we wish existed at the British Soap Awards 2015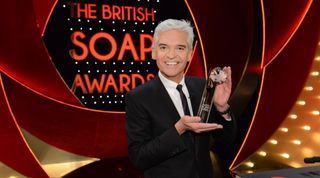 The red carpet's been dusted off and the champagne's on ice for the biggest event in the soapland calendar. No, not Norris and Rita's annual stocktake at The Kabin on Coronation Street… it's the 2015 British Soap Awards, hosted by Philip Schofield.
There are all the usual trophies, for Best Storyline, Best Newcomer, Scene Of The Year and so on, but what about all those contributions that go uncelebrated? Here are our suggestions for some alternative soap gongs…
Best scene-stealer: Tanya Branning, EastEnders
Jo Joyner's face after she messed up her lines on live TV (BBC)
Tanya Branning's return to Albert Square for the live EastEnders episode in February got the nation talking – but not quite for the intended reasons. Poor Jo Joyner slipped up when she referred to Ian Beale as 'Adam' (the name of the actor who plays him), and the shocked look on her face said it all.
Jo later admitted: "People were sending me pictures of my face in shock every day on Twitter. So I've seen that image a few million times!"
Most surprising accent: Bethany Platt, Coronation Street
Lucy Fallon plays troublemaking teen Bethany Platt (ITV)
You'd think after spending her formative years in Milan, young Bethany might have a strong Italian accent.
But on her dramatic return to Weatherfield, the teenage tearaway (played by Lucy Fallon), sounded more like Liz McDonald than Sophia Loren. This prompted one Twitter user to comment "I see the schools of Milan teach the kids to have Northern accents".
Most durable costume: Marlon Dingle, Emmerdale
Marlon Dingle with celebrity chef Antony Worrall Thompson (ITV)
The Emmerdale stalwart's chefs whites have seen some sights – he's scrapped with a copper while wearing them, and got passionate with Rhona in his work gear.
And while Marlon (Mark Charnock) takes his job as a chef very seriously, we're a bit concerned about food hygiene, given that we've never seen him pop his trusty bandana in the wash.
Most impressive marriage survival: Sonya Mitchell and Toadfish Rebecchi, Neighbours
Sonya and Toadie have been through a lot (Channel 5)
Toadfish Rebecchi (Ryan Moloney) hasn't had much luck when it comes to weddings.
His first marriage to Dee Bliss ended hours later – when he drove their car off a cliff accidentally, his second wedding day saw him leave Steph Scully jilted at the altar, and his latest, to Sonya Mitchell (Eve Morey) in 2013, saw a deadly gas explosion tear through the reception.
Not a great start to a union, but the pair have soldiered on and are still together. Mind you, nothing lasts too long in soapland…
Lifetime services to Neighbourhood Watch: Norris Cole, Coronation Street
Norris Cole (ITV)
If there's any gossip to be found on the cobbles, then you can be sure Norris (Malcolm Hebden), AKA Rita's Kabin wingman, knows about it.
So great is his nosiness, that in 2009, the soap released a promo trailer in which he was portrayed as a 007-style spy, using all sorts of gadgets and gizmos to snoop on his Corrie neighbours.
Not only is the bald and bespectacled resident forever eavesdropping, he uses his knowledge to wind people up. He does it to such comedic effect, though, you can't help but enjoy watching.
Bravery in the face of adverse weather: The cast of Hollyoaks
Hollyoaks cast (Lime Pictures)
Chester isn't known for its tropical temperatures, but you'd be forgiven for thinking it's blessed with an exotic micro-climate after watching an episode of Hollyoaks.
Instead of the woolly coats and warm jumpers that most people would kit themselves out in to brace the year-round chill, this cast of part-time model characters regularly strip down to their bare necessities, leaving very little to viewers' imaginations.
The unsung hero award: Tracey the barmaid, EastEnders
http://www.youtube.com/watch?v=ZXjNklmqOp8&feature=oembed
Poor Tracey the barmaid. When Peggy Mitchell was squawking at love rival Pat Butcher, she was downstairs fetching the barrels. When Den Watts was chatting up women from the bar, our Trace was restocking the pork scratchings.
And when Archie was manipulating Mitchells left, right and centre, she was busy cleaning the pipes and pulling pints. Silent Tracey (played by Jane Slaughter), who joined the soap in 1985, has been slogging away without a sniff of a promotion in years. Let's give her a moment to shine!
The 'Haven't I seen her somewhere before?' award: Erica Holroyd, Coronation Street
Claire King (Ian West/PA)
If you thought Corrie's Erica looked a bit familiar, you'd be right. Coronation Street isn't the only soap which actress Claire King has appeared in.
She's best known to Emmerdale fans as villainous Kim Tate, while Hollyoaks aficionados might recall her brief turn as a prison governor back in 2012. And we've loved her in all of them.
Most neglected hips: Max Branning, EastEnders
Jake Wood struts his stuff on Strictly (BBC)
We all marvelled at actor Jake Wood's amazing hip action when he reached the semi-final of Strictly Come Dancing last year. His moves turned out to be hotter than the chip pan in Ian's caff.
So isn't it time that Max got a dance-themed storyline on the show? Up until now, he's been too busy pushing Tanya to the brink, and bedding a long list of beauties. Enough of the brooding, time to get those dancing shoes on and shimmy around Albert Square, Max!
The British Soap Awards takes place on Saturday, May 16, and will be televised on ITV on Thursday, May 21.
Get the latest updates, reviews and unmissable series to watch and more!
Thank you for signing up to Whattowatch. You will receive a verification email shortly.
There was a problem. Please refresh the page and try again.