Is it time to buy a new Apple TV?
New hardware is always on the way. The tough part is knowing when to buy it. And now is that time.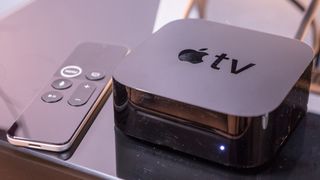 (Image credit: WhatToWatch.com)
Apple TV is the best streaming device you can buy — and it has been for quite some time. It's not the least expensive, and certainly cheaper options can also get the job done. But none has the a better overall experience than Apple TV, which has all the specs and features you could possibly want, and apps for all the non-video things you could want to do.
Plus it's an Apple product, so you know it's going to receive software updates for quite some time.
But those updates won't last forever. And at some point, software developers will be forced to leave older generations of hardware behind.
This is our take on when you should be in the market for a new Apple TV, and when you should hang on to your old one for just a little longer.
The best streaming video device you can buy
Specifications
Voice control:
via Siri remote
Video:
4K resolution, Dolby Vision
Audio:
Surround sound/Dolby Atmos
Reasons to buy
+
Hardware that holds up years later.
+
Continues to get new software updates.
+
Has apps for every video service you want.
Reasons to avoid
-
The remote control is awful.
Apple TV is now in its sixth generation. The latest model — Apple TV 4K 2021 (which we'll just call "Apple TV" after this for the sake of simplicity — was announced on April 20, 2021, and will be released sometime in mid-May.
The latest version was a long time coming. It's not a huge improvement over the 2017 model — the new remote control is the standout upgrade — but it's almost certainly enough of a bump to ensure that every competitor is still playing catch-up in every category but one.
Price. That's still the Achilles' Heel for Apple TV 4K. It retains the same pricing structure as the previous model — $179 for 32 gigabytes of storage, and $199 for 64 gigabytes of storage. Meanwhile, platforms like Roku, Amazon Fire TV and Google TV bring 4K support at $50, if not less.
Why pay three or four times as much for an Apple TV, then? In a word, consistency. There simply is no other platform that avoids lag while ticking pretty much every spec box you can think of. 4K resolution? Obviously. Dolby Vision HDR? Yep. Dolby Atmos audio? Sure thing. All the streaming apps? Indeed. Software updates? Years and years worth. Plus it doesn't bombard you with advertising and tracking.
But mostly, Apple TV 4K is smoother and faster each time, every time. And that's important when you're talking about your TV entertainment experience.
Is now a good time to buy a new Apple TV? Yes!
The new Apple TV 4K was announced April 20, 2021, at Apple's springtime event. It was part of an hourlong presentation packed with as much news as we've ever seen the company drop at one time. New iPhone colors. An all-new iMac. Apple TV 4K. AirTags. It was a busy, busy event.
So, yes. Now is the perfect time to buy a new Apple TV 4K. And that should be true for a few years to come. Apple TV isn't the sort of product that the company has traditionally upgrade ever year. Or even every two years. The previous Apple TV 4K was born in September 2017 — so we basically went three and a half years without a new model. That's an eternity in technology time.
We don't expect a new model of Apple TV anytime soon. Nor do we expect Apple to release a true "Apple TV" ... well, ever. What you buy today should be good for a long, long time.
Should I buy the non-4K Apple TV and save a few bucks?
Look, here's some tough love: While the previous-generation Apple TV is still a perfectly fine device — I'll continue to use one in my bedroom until the day it shuffles off this mortal coil — you under no circumstances should buy an Apple TV that isn't the new Apple 4K model.
That's right — Apple is still selling a non-4K model of Apple TV. It's the Apple TV HD. It has the new remote control, which is nice. But it also has an older, lesser processor, lesser Wifi capabilities, is missing video formats like Dolby Vision HDR and audio formats like Dolby Atmos.
It is, to put it bluntly, a lesser Apple TV, and for only $30 less than the 32-gigabyte model Apple TV 4K. There are very few circumstances in which you should buy the non-4K model, and most of them probably involve being forced to at gunpoint.
Phil spent his 20s in the newsroom of the Pensacola (Fla.) News Journal, his 30s on the road for AndroidCentral.com and Mobile Nations and is the Dad part of Modern Dad.
Get the latest updates, reviews and unmissable series to watch and more!
Thank you for signing up to Whattowatch. You will receive a verification email shortly.
There was a problem. Please refresh the page and try again.