Call the Midwife's Jenny Agutter: 'The BBC wants to televise the Nonnatus House carol concert!'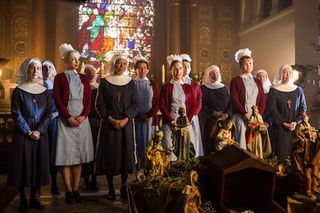 (Image credit: BBC/Neal Street productions)
As the new series of Call The Midwife kicks off with a Christmas special, actress Jenny Agutter tells us what Sister Julienne and co are up to...
Where do we find the nuns and midwives in the Call the Midwife (opens in new tab) Christmas special?
"It's Christmas 1960, and Sister Julienne feels that all the bright lights, the tinsel and the razzmatazz are beginning to encroach on spiritual life. Sister Monica Joan wants to put up the Christmas decorations early but Sister Julienne feels that advent is a very particular time and the hanging of decorations and all those sorts of things should have an absolute order.
"She feels Christmas is the joy of the religious, remembering what it's about and what it's for, and everybody else is going on about decorations and buying things - it's the first time everybody is wanting to get stuff."
So, it's a fast-changing world?
"Yes, the 1950s have all been about remembering the war, being grateful for what one has and trying to get over things. Now people are starting to embrace all the things that have been held back by the war.
"As the economy is suddenly coming together, 1961 brings in lots of opportunities - people are watching television, the space age is coming about, and all these things have their effect on the nuns. They get the chance to be on television when the BBC wants to televise their carol concert and, in fact, 1961 was the first Songs of Praise."
As Call the Midwife returns for a full series in January, we learn that things are changing medically too...
"We're entering wonderful new medicines, new care – and new problems. So it's a topsy turvy world. At the end of the last series, there was a young woman talking about taking Thalidomide but nobody knows what that is for a long period of time. In the first episode, we start to see the beginning of that, which is really quite shocking. The cruelty of it was that it was so out of the blue. People really didn't expect anything."
Has playing Sister Julienne made you a more spiritual person??
"I don't think so, I'm of an age now where I am what I am. I'm not going to change very much. But it does make me more aware of that kind of person and the contribution they make to the world, and I'm sorry that people like her aren't celebrated today.
"Sister Julienne is someone who has great care for the people around her. She sees her position as being someone who takes care of people, particularly of women and their particular problems and in that poor environment of Poplar, which is not her own background but one which she feels she can serve."
Do you get people writing to you with their problems?
"No. I think the fact that Call the Midwife is a period piece just separates one enough. If it was a modern piece, people would maybe associate me much more with being a nun."
How does doing Call The Midwife fit with your Hollywood roles?
"The contrast between the two is why I love this business. It's what makes it really good fun. It was wonderful working with Robert Redford and Scarlett Johansson [in Captain America: The Winter Soldier]. They're lovely people."
The Call the Midwife Christmas special can be seen on Christmas Day at 7.30pm. It returns for a full fifth series in January.
Thank you for signing up to Whattowatch. You will receive a verification email shortly.
There was a problem. Please refresh the page and try again.