Amanda Mealing: 'Casualty are taking Charlie and Connie on a strange journey in Romania!'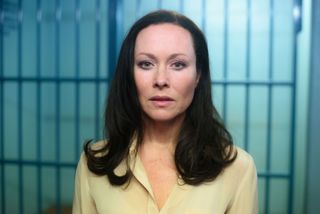 (Image credit: BBC/Warren Orchard)
In the last couple of months Casualty's Connie Beauchamp has been arrested, charged with murder and banged up.
Amanda Mealing talks to What's on TV about Connie's recent rollercoaster life, and reveals more surprises are in store for Holby City ED's clinical lead when she's released from prison this week!
Last week viewers saw Connie charged with the murder of her friend, Alfred. Will we see her behind bars this week?
"Yes, and it's not her natural environment at all! Ollie Kent, Casualty's executive producer, told me he's waited years to see Connie in the clink! I had a lot of fun filming those scenes. I don't think it would take Connie long to run the prison."
How is she holding up?
"Being charged with Alfred's death is the final straw for her. The terminally ill surgeon was a hero of hers, and they had a very special relationship. His death has really broken Connie. This really is the winter of her discontent!"
In this week's action-packed episode Connie's proved innocent and released. What can you reveal?
"It's all down to Charlie. He works out Rita's taken the packet of tablets that would prove Connie didn't help Alfred end his life. He puts the moral thumbscrews on Rita and, Charlie, being Charlie, takes the pills to the police saying they turned up anonymously on his desk."
What does Connie do when she's released?
"Charlie's there for her when she comes out of prison and she badgers him to take her straight back to Holby ED to pick up some things! Even though she's been suspended, pending an inquiry, Connie insists she's not shying away."
We've heard there's a dramatic twist at the hospital?
"Yes! While all this is happening Charlie gets a call from his son Louis' girlfriend in Bucharest saying Louis is in trouble because he owes money. Because Charlie's the only person who's been there for her, Connie says she's going with him to Romania!"
Can you reveal what's next for Connie and Charlie?
"The future is under wraps, even from me, but Casualty are taking Charlie and Connie on a strange, tangent journey in Romania! We're going to see a very different Connie…"
Get the latest updates, reviews and unmissable series to watch and more!
Thank you for signing up to Whattowatch. You will receive a verification email shortly.
There was a problem. Please refresh the page and try again.