Look Who's Back in Casualty! It's Gem Dean - here's 7 spoilers...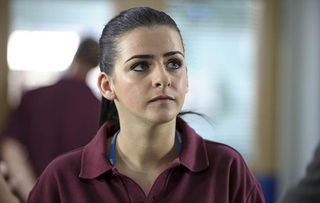 (Image credit: Alistair Heap)
Gem Dean returns to Casualty after serving her time… Here we reveal 7 spoilers about Rebecca Ryan's new storylines...
Well, well, well. Look who it is! This week paramedic Iain Dean welcomes his wayward little sister Gem Dean back to Holby.
Gem (returning star Rebecca Ryan) was last seen handing herself into the police after she drunkenly drove into doctor Lily Chao and nearly killed the gifted medic.
This week, Gem's served her time and ready for a fresh start. Can she prove her worth or will she be shunned?
Here's everything you need to know about the return of Gem Dean - warning contains spoilers!
Family ties
Gem is staying with her brother Iain, a paramedic for Holby hospital. Gem and Iain have a complicated relationship, after Iain failed to get in touch with Gem and their alcoholic mother when he returned from serving in Afghanistan. These days Iain's determined to make it up to his little sister, who had a horrible childhood…
Any porter in a storm
Iain is keeping a very close eye on Gem. So much so he's managed to get her a job at Holby ED as a hospital porter. However, Iain (Michael Stevenson) gets on Gem's nerves when he keeps checking up on her. It's possible this will lead to unprofessional behavior when they're both on duty!
Jacob's lecture
Senior nurse Jacob Masters (Charles Venn) gives Gem a stern lecture when he is showing her the ropes on her first day as a porter. Jacob warns Gem that the ED is under tremendous pressure and that she better not mess up. Time will tell whether Gem will impress Jacob during her trial period at the hospital…
The Glen factor
Jacob puts Gem in the hands of high-spirited hospital porter Glen Thomas. Before long Gem and Glen (Owain Arthur) are frolicking on the job, while failing to carry out some crucial duties. Will Gem knuckle down before Jacob catches her messing about in the overcrowded ED?
Rebel rebel
Iain's as anxious as mother hen about Gem's behavior at work, as he desperately wants his little sister to straighten up and make a new life for herself. However, Iain's fussing and constant checking up makes Gem feel suffocated. She doesn't appreciate his expert ironing skills either! Will Gem lash out and do something reckless in rebellion? She's certainly got form when it comes to bad behaviour…
The Alicia question
Last time Gem and doctor Alicia Munroe met, they didn't get on. The frosty situation escalated to a sickening level when Gem photo shopped Alicia's face onto pornographic images and posted them online. Alicia (Chelsea Halfpenny) is now a highly regarded senior doctor in the ED. Will Alicia use her position to get revenge on Gem?
Rash feelings
When Gem delivers a patient to junior doctor Rash Masum he's instantly taken with her. Tongue-tied Rash (Neet Mohan) manages to get Gem's name wrong, but even so she seems rather smitten with him too. Could this be the start of something special? Or will Rash have a change of heart when he hears about Gem's criminal past?
Rebecca Ryan, who plays Gem Dean, returns to Casualty on Saturday 17th March at 8.20pm.
Get the latest updates, reviews and unmissable series to watch and more!
Thank you for signing up to Whattowatch. You will receive a verification email shortly.
There was a problem. Please refresh the page and try again.