Hannah Spearritt: 'Casualty fans won't have any sympathy for Mercedes – in the beginning!'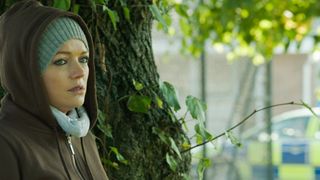 (Image credit: BBC)
Hannah Spearritt fought dinosaurs in Primeval and encouraged everyone to 'Reach For the Stars' as part of pop sensation, S Club 7. This week, she turns her hand to causing chaos when she joins Casualty as debt ridden Mercedes Christie!
Chatting to What's on TV's Elaine Reilly, Hannah reveals what's in store, as she joins the cast of Casualty in a semi-regular role, which will see Noel fighting for his life, Big Mac blackmailed, and cash-strapped Mercedes rapidly resorting to desperate measures…
What can you tell us about Mercedes, and her introduction to Casualty viewers?
"When we first meet Mercedes Christie she's in her horrible apartment frantically searching for anything valuable she can get money for, while debt collectors threaten to come into her home! She's stressed and desperate because she owes a lot of money, and doesn't have much left to sell…"
How does she come to be involved with Holby ED staff Noel and Big Mac, as they walk home after a night shift?
"Soon afterwards we see Mercedes in the park. She spots Noel near the toilets – he's waiting on Big Mac – and, after spying on him for a little bit she takes her window of opportunity and goes after him. But in the desperation of the moment she beats Noel up badly. It's pretty violent. Terrified, Big Mac stays in the loo and doesn't come out to help Noel, but she's spotted him!"
How was it to film those violent scenes?
"I had a great stunt double for that bit, actually! Poor Noel (Tony Marshall) he's such a lovely guy. He's one of the worst people Mercedes could have chosen to beat up."
After the robbery goes wrong, why does Mercedes follow Noel and Big Mac to the hospital?
"She knows she's gone too far and wants to make sure Noel's okay. Basically, Mercedes needs to know Noel is alive and is going to make it!"
So she's not all bad, then?
"No, she's not. She's completely desperate because things in her life are really bad. Her circumstances cause her to behave in this particular way. Though I don't think the audience will have sympathy for her in the beginning!"
This story is going to run and run, with Mercedes blackmailing Big Mac. What can you reveal?
"Things will unravel and you'll get to understand a bit more about what's going on in her life. There's definitely a lot more to come!"
Do you think you'll go on Twitter when the episode airs?
"I think I'll have a little peek! I'm really excited to see it; it's so good to be filming for TV again. I used to watch Casualty when I was a child. It's pretty cool to work on such a huge show, that's been running for 30 years. And to have an on-going, semi-regular guest appearance is amazing."
What are your favourite things about working on Casualty?
"Everyone's been so warm and welcoming, it's such an amazing place to work. I also love the gory make up. Mercedes picks up a few injuries, so I really look forward to getting those done. It's so impressive how they do it so quickly!"
Catch Hannah Spearritt's first appearance on Casualty, on BBC1, Saturday, January 23
Get the latest updates, reviews and unmissable series to watch and more!
Thank you for signing up to Whattowatch. You will receive a verification email shortly.
There was a problem. Please refresh the page and try again.