REVEALED! The Casualty guest star behind Alicia Munroe's SHOCK exit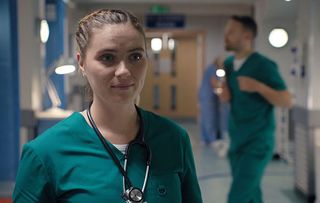 (Image credit: BBC)
Casualty spoilers: Doctor Alicia Munroe quits her job in Casualty after the appearance of this comedy guest star
When concerned mum Kate Herbert brings her young son Donnie to the ED with suspected diabetes this Saturday in Casualty, doctor Alicia Munroe has no idea the effect Kate is going to have on her life.
Here we reveal more about the exit of Casualty favourite Alicia Munroe… Warning contains spoilers!
Alicia (Chelsea Halfpenny) is extra kind to Kate, who is frantic about Donnie's health as his father died after going into a diabetic coma.
Doctor Alicia Munroe runs a full series of tests to put Kate's mind at ease, even though it puts her in conflict with her boyfriend doctor Ethan Hardy, who thinks Kate should take Donnie to their GP.
Soon, however, it appears something sinister might be at play when Alicia uncovers anomalies in Donnie's results and medical records!
In a race to potentially save Donnie's life, Alicia pays the Herberts an impromptu house call, only to be attacked by Kate! We can't reveal the outcome of the dramatic storyline, other than to say it plays a major part in Alicia's decision to quit Holby for a new post in Manchester – effectively making this her last Holby ED shift!
Speaking to What's on TV about exiting Casualty this week, Chelsea Halfpenny revealed her final episode was less traumatic behind the scenes: "The last few weeks of filming were really fun. And I got to work with Niky Wardley, who plays Kate – I'm a big fan of hers.
"It was a really cool story to shoot because I got to do a little of everything in that last episode."
About Niky Wardley, who plays troubled mum Kate
Multitalented actress Niky Wardley will be recognised by fans of The Catherine Tate Show (2004 – 09), where Niky played mouthy teenager Lisa Jackson and various other characters. In fact, she's currently on tour with The Catherine Tate Show Live.
More recently Niky played Fiona Hackett in 2018's relocation comedy Home from Home with Johnny Vegas and Emilia Fox. Other iconic British comedies Niky's starred in include The Spa, Benidorm, In With the Flynns and Love & Marriage with Alison Steadman in 2013.
As her appearance in Casualty this week proves, Niky's talents aren't limited to comedy roles. Coronation Street fans may remember her as businesswoman Jenny Sumner, who had an affair with villain Frank Foster and schemed against Carla Connor in 2012. Niky has also had roles in EastEnders, Holby City, Silent Witness and The Bill.
Is Donnie's mum putting the 'con' into concerned?
Find out on Casualty this Saturday on BBC1.
Get the latest updates, reviews and unmissable series to watch and more!
Thank you for signing up to Whattowatch. You will receive a verification email shortly.
There was a problem. Please refresh the page and try again.