Casualty interview: Chelsea Halfpenny reveals why she's leaving Casualty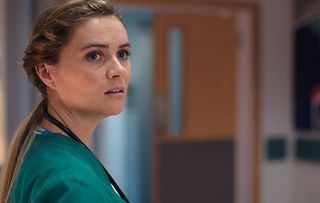 (Image credit: BBC)
Casualty star Chelsea Halfpenny reveals the real reasons doctor Alicia Munroe is quitting Holby ED…
When it comes to the world of entertainment the rule of thumb is, always leave them wanting more. When it comes to Casualty character doctor Alicia Munroe, actress Chelsea Halfpenny has certainly succeeded in that mission statement.
We talked to the talented Casualty star about Alicia's sudden departure from Holby ED this week.
Here Casualty star Chelsea Halfpenny reveals why the time is right for both her and her character Alicia Munroe to make a fresh start elsewhere…
How does Alicia react when she wins a prestigious, career-changing post in Manchester this week?
"Being offered a paediatrics fellowship is a huge opportunity in the medical world but Alicia's natural instinct is that she's comfortable in Holby. Alicia's life is here; it's where her boyfriend Ethan Hardy is and she really enjoys working with everyone in the ED. I think after all she's been through [Alicia was attacked by former colleague Eddie Allister last year] it's natural she leans towards comfort."
Is it a difficult decision for her to make?
"Everyone is telling Alicia it's a no brainer; she has to go for it. But there's a spanner in the works… She sees Ethan with an engagement ring at the start of the hospital shift! It adds even more pressure to the situation. It's really between her head and her heart. Her head tells her to do something that scares her, to move on and progress in her career."
When does Alicia make up her mind?
"While treating a young boy called Donnie Herbert who has diabetes, Alicia realises how much she wants to make a difference, especially in paediatrics. She goes through a lot in this episode! We really want to show that this is the perfect time for her to go."
Was that an important element to her exit storyline?
"Yes, it was something producer Lucy [Rafferty] and I consciously decided on. The message we wanted to put across is that Alicia is not running away from things that have happened in Holby. She's moving on."
You've played Alicia since 2015. What does Casualty mean to you?
"Casualty came at the perfect time. I was doing a play I wasn't particularly enjoying and was feeling down and uninspired in terms of the industry. From day one I've found Casualty challenging and rewarding. We're not cutting ties, it's just that I'm ready to do some other things – whatever they may be!"
What are your stand-out memories of playing Alicia?
"I love anything where you get to be super dramatic and be the one in the drama, covered in blood. That's the most fun! More recently, the Eddie storyline ticked every box that I could tick. I found it really challenging. Some days I'd look at the scenes coming up and wonder how I was ever going to do them. But those days were the most rewarding. They were the ones when you go home and think, 'I've worked hard today'. I actually think that really made me grow as an actor."
How do you know when it's the right time to say goodbye to playing a character you love?
"I've done long-running dramas before [Emmerdale, Byker Grove] and really enjoy them, but the minute I get itchy feet I know it's time. I would hate to exhaust a job or feel like it's getting mundane. Before I decided fully I chatted to George [Rainsford, who plays Ethan] and a few other people because I wanted to know I was making the right decision. They wanted me to stay but totally had my back. At Casualty they want everyone who leaves to soar. They're so supportive!"
Did you have a leaving do with everyone?
"Yes, and my Mam came and DJ-ed! We had a really fun night. The cast got me a cushion with all their faces on it! I was also allowed to keep Alicia's lovely winter coats. I'm going to miss everyone and living in Cardiff. I'm also going to miss the work, especially the action and location scenes, that's when I felt like a film star! I even began to love the early starts, though I won't miss learning medical jargon – it's not easy!"
Casualty continues on BBC1.
Get the latest updates, reviews and unmissable series to watch and more!
Thank you for signing up to Whattowatch. You will receive a verification email shortly.
There was a problem. Please refresh the page and try again.