'Bethany's story has to go to dark places to have an impact,' says Corrie's Lucy Fallon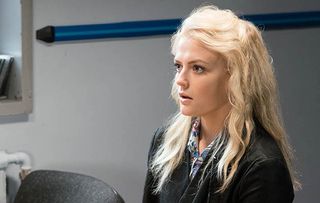 (Image credit: Mark Bruce)
Bethany finds out Nathan isn't all that he seems, explains Coronation Street star Lucy Fallon as she discusses the schoolgirl's disturbing relationship
Bethany has been led to believe that there's never been anything between Nathan and Mel so when she happens to see a picture of them kissing, the angry, upset and confused teen confronts the older man she regards as her boyfriend, Lucy Fallon tells Soaplife.
But Nathan reacts by switching it back on her and saying her reaction is really childlike. "Did you expect me to be a virgin when we met?" he says, and tries to belittle her…
What happens after Nathan's turned the tables on Bethany? "She storms out, but then she's really upset because she doesn't want him to think of her as a child. She does want to be with him, but she's really confused.
Where does she go? "Home. She tries to get some advice from her mum, but Sarah [Tina O'Brien] doesn't say very much. I think Sarah's being careful not to push Bethany too far, and hoping she'll dump Nathan. Sarah just says Nathan should have told Bethany he'd had some kind of relationship with Mel [Sonia Ibrahim]."
So is Bethany going to dump him? "No. She goes upstairs for a shower and overhears Sarah talking to Gary, saying she's really glad Bethany's not with 'that creep' any more. This makes Bethany very defensive of Nathan [Christopher Harper] and she's determined to get back with him. Sarah's trying to be cool about Nathan, but without knowing it she's played into Bethany's hands."
Why is Bethany so into Nathan? "He's so charming, so supportive of her and her vlogs, and he's always telling her how talented she is. He gives her lots of time and attention, talks to her about her future and giving up school. Bethany feels like she's being treated as a grown woman even though she's still really a child."
How do you feel about this storyline? "It's disturbing and some of the scenes are really difficult to play, but I am enjoying it. I think it's a really important story to tell, especially pre-watershed, because that is when young girls like Bethany who may be affected are watching. It is an uncomfortable watch at times, but the storyline really has to go to dark places if it's going to have an impact."
Have you done a lot of research for it? "I met with the NSPCC and a girl who's survived this type of abuse herself who told me her story. What she went through was horrific and she was so brave sharing her experiences with us. It's really spurred me on to do the best I possibly can."
Coronation Street, ITV
Thank you for signing up to Whattowatch. You will receive a verification email shortly.
There was a problem. Please refresh the page and try again.