'Bethany's the best fun to play!' says Corrie's Lucy Fallon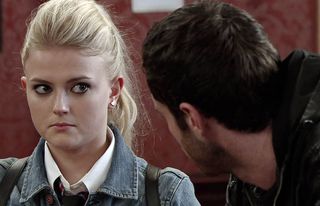 Lucy Fallon reveals to Soaplife how she took her giant step from a small role in a panto to playing big, bad Beth in Coronation Street (opens in new tab)…
Corrie's Bethany Platt is one bad, bold girl on the Street, but Lucy Fallon (opens in new tab), who plays brat Beth, is a real sweetie. "I've never really been a wild child like Bethany – I'm just a normal 19-year-old," Lucy tells Soaplife. "One of my favourite things to do is relax in the bath! I don't really know any one like Beth. I play her according to the brilliant scripts. She's the best fun to play."
So, how did you get into acting?
"My two big sisters went to acting and dance classes, and I wanted to do what they did. I went to a theatre school called Barbara Jackson's in Blackpool, where I'm from. I did singing, dancing and drama there from about two years of age, and then I also went to private drama lessons from when I was about eight. I did LAMDA [Londa Academy of Music and Dramatic Arts] exams and drama festivals. I also went to Blackpool Sixth Form College and did performing arts. I finished there last June."
And how did that lead to Corrie?
"I'd auditioned to go to ArtsEd and Mountview drama schools in London, and was offered Foundation courses at both but it was too expensive for me. Then I got a part as a dancer in Sleeping Beauty at Blackpool and, while I was doing that, I auditioned for Corrie. Pretty much as soon as panto finished, I heard I'd got the part of Bethany. The way it happened makes me feel it was fate. Corrie will be my drama school. I'm learning everything here."
Is there any rivalry between you and your sisters now?
"[Laughs] No! They're both very happy for me and very happy with their careers. Rachel, who's 32, is a deputy head at a high school, while Laura, 29, is a contemporary dance and ballet teacher."
You still live with your parents in Blackpool, don't you?
"Yes, but I hope to move to Manchester at some point. The commute is very tiring. It takes an hour, although it's longer by car because of the traffic."
Did you watch Corrie when you were younger?
"Yeah. I remember Richard Hillman [Brian Capron (opens in new tab)] driving the car into the canal. I remember the song that was playing in the car at the time – the "You and Me Song" by The Wannadies.
What's it like playing a character five years younger than your real age?
"Oh, I'm used to people thinking I'm younger than I really am. I'm always getting ID'd."
Do you have a boyfriend?
"Yeah – he's called Ryan and is a waiter at Pizza Express in Blackpool. He's not an actor. That's all I want to say about him, really."
Have you ever had any waitressing jobs yourself?
"I've had loads of casual jobs. I've worked at Subway, at Next, at New Look. . . I worked on the North Pier in Blackpool in a bar. I worked in a nightclub but only lasted about two days. I have a really bad phobia of sick and we had to clean sick up as part of the job. I just couldn't do it."
Do your mates ask you for any of the fit Corrie guys' numbers?
"No – but some of my mates from drama school are obsessed with the show. They really like Sean [Ward (opens in new tab), who plays Callum]."
Coronation Street (opens in new tab), ITV.
Get the latest updates, reviews and unmissable series to watch and more!
Thank you for signing up to Whattowatch. You will receive a verification email shortly.
There was a problem. Please refresh the page and try again.