Connor McIntyre is Phelan the love and still having a ball on Corrie (VIDEO)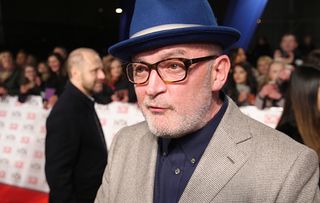 Villians always get their just rewards on the soaps, but Connor McIntyre is delighted that hasn't yet happened to Phelan. How long will it last?
There is no soap villain more cunning and controlling than Pat Phelan in Corrie but actor Connor McIntyre says the public don't want him to get his comeuppance – not just yet.
Connor told What's on TV at the National TV Awards that viewers' response to him has been great (he was named British Soap Awards Villain of the Year in 2016).
"[The] public are great. They understand it. You get a boo in the street and they go 'Oh he's horrible. We hate him, but we don't want him to get his comeuppance just yet' is the general attitude. Long may that continue. Of course, eventually he will, soap law decrees that he will, til then I'm having a ball and delighted to be at Coronation Street."
Connor believed that the quality of the writing and directing was largely why Phelan's been a success.
"I'm a great believer in the writing," he said. "I bring to the party what I bring to the party... and the unsung heroes of course are the directors. It's just a pleasure to play. The neat trick that they pull is they've created a fully dimensional character, not all heroics, not all growling, a survivor."
Connor's other passion besides acting is art and he has a gallery in Plymouth. Find out more about The Alamo Project
Get the latest updates, reviews and unmissable series to watch and more!
Thank you for signing up to Whattowatch. You will receive a verification email shortly.
There was a problem. Please refresh the page and try again.