Coronation Street's Simon Gregson: 'Like Steve, I've suffered with depression in the past'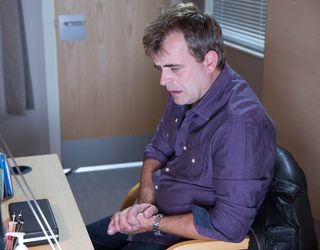 Steve's depression is officially diagnosed, but he still can't accept the truth, Coronation Street (opens in new tab)'s Simon Gregson tells Soaplife…
Steve McDonald's depression has got so bad that his relationship with Michelle has broken down, mum Liz (Beverley Callard (opens in new tab)) is at her wits' end, he's neglecting daughter Amy and he couldn't seem to care less about Streetcars. "It would help if Steve was able to admit to himself that he's depressed. But even after another visit to the doctor leaves him in no doubt as to what's wrong with him, he's still in denial. He sees depression as a weakness and he's kind of embarrassed about it," Simon (opens in new tab) explains to Soaplife. Unless he seeks help, it sounds like our favourite Corrie funny man is heading for a full-blown breakdown.
How does Steve feel in himself?
"Deep down, he's very frightened. He's scared of being labelled 'depressed'. He keeps telling himself it's stress and he'll be fine. He thinks he must 'man up' and 'pull himself together'. He tries to distract himself by indulging in retail therapy, like impulsively buying a flash car that needs loads of work doing to it. He's also hanging out at the bistro a lot and drinking. That's another distraction."
Is it all over with Michelle (Kym Marsh (opens in new tab))?
"For now. She's had enough of him pushing her away. She thinks Steve doesn't love her any more. He does… but he's in such a bad place that he's not able to tell her."
How long will Steve's depression last?
"There'll be a time when he hits rock bottom. We're not there yet. You'll see him really reach crisis point in the New Year. After that, there'll be a gradual climb out of it."
Did you do any research into depression before you started?
"Not official research, but I've suffered a little bit myself in the past and friends have, too. The thing with depression is it affects people in different ways, so there's no set way to play this role. Some people can have depression and not know, while some people can have it and their friends and family don't know."
Coronation Street (opens in new tab), ITV. Click here (opens in new tab) for dates and times.
Get the latest updates, reviews and unmissable series to watch and more!
Thank you for signing up to Whattowatch. You will receive a verification email shortly.
There was a problem. Please refresh the page and try again.