Coronation Street star Sally Dynevor on Sally facing jail: She'd make an annoying cellmate!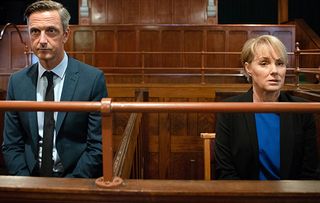 Coronation Street's Sally Dynevor on how her character is coping with the prospect of time behind bars and why you wouldn't want to be her cellmate!
If you had to put money on a current Coronation Street resident facing a stretch in jail, Sally Metcalfe (played by Sally Dynevor) would probably be right at the bottom of the list.
But after being framed by Duncan Radfield for stealing £40,000 of charity money, it looks like Sally's fears of going to prison could soon become a reality…
"Sally's confident before her hearing because she's obviously innocent," reveals Sally Dynevor, who plays her. "She thinks justice will prevail, and just wants to get the day in court over and done with and get back to living her life.
"Sally can't believe there are actually people like Duncan who exist in this world. Not only has he stolen money from a charity, but he's lied about their relationship and tried to break her and Tim up. Duncan's destroying Sally's life."
[Check out the latest Coronation Street spoilers]
But it soon becomes clear she has bigger things to worry about than convincing her husband she's not been unfaithful…
Says Sally to TV Times: "She finds out that a friend, Judith Fisher, has given a statement to the authorities saying that she overheard Duncan and Sally talking about going out together.
"Sally thinks it's totally absurd because it never happened, so she very innocently rings her up to talk about it – and then Judith accuses her of harassment."
Things go from bad to worse as Sally takes to the stand to represent herself after sacking solicitor Paula for her fling with daughter Sophie.
"Before the trial, Sally's secretly thrilled about going it alone on the stand," laughs the Lancashire-born star, who has played Weatherfield's former mayor since 1986.
"She thinks she can manage, but then Imran, who's on the prosecution team, brings up the telephone call with Judith and things start to unravel.
"By this point Sally has got herself into a right pickle and it dawns on her that she could be going to prison. The thought shocks her to the core. She can't believe what's happening, it's all completely ridiculous."
But don't fear, if Sally does end up behind bars, she will still be keeping up appearances, even in prison.
"I think Sally would make an annoying cellmate, but she would be very organised.
It would be the cleanest cell in the whole prison!' laughs Sally.
"As an actress, this storyline has been great. It's definitely one of my favourites so far, if not the best."
Coronation Street continues on ITV.
Get the latest updates, reviews and unmissable series to watch and more!
Thank you for signing up to Whattowatch. You will receive a verification email shortly.
There was a problem. Please refresh the page and try again.