'Corrie's great again now Kate Oates is in charge!' says Sam Robertson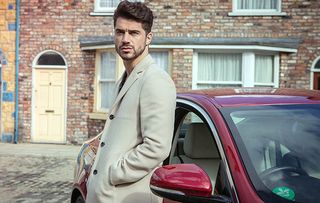 (Image credit: Mark Bruce)
Adam Barlow actor Sam Robertson tells Soaplife why he's delighted to be back in Corrie and why it's sweeter the second time around!
When new Corrie producer Kate Oates decided to bring Adam Barlow back, Sam Robertson was definitely at the top of her list to reprise the role. "I had to audition to play Adam again, but that was fine as I really wanted to come back to Corrie,' Sam tells Soaplife. 'I don't want to criticise anyone else, but I noticed the show had become a bit lacklustre before Kate took over. Now she's in charge, she's working the same kind of magic she did at Emmerdale and I'm so pleased to be a part of it."
You're glad to be back then? "I'm delighted to be back. Coronation Street was my first job as an actor and it's a special place for me. But actually I'm probably happier about being in Corrie now than I was 10 years ago. I feel far more sure of myself as an actor now. I was more of a trainee then – and not very good."
What do you mean? "I came via the model-turned-actor route. I was at university in Manchester, studying English and drama. Through that I got asked to audition for a part in Coronation Street. I was 18, and I hadn't done any acting whatsoever. But they were casting a Scottish character who was 18 years old and very much like me. I went along to the audition and, after a couple of call-backs, I got the part. It was a big, big change."
Were you happy at Corrie back then? "It was a great experience, but I certainly wasn't very sure of myself. As a young actor, it was a little overwhelming so I'm looking forward to coming back and stamping my mark on the character, I feel there's unfinished business with Adam."
How did you feel when you heard Kate wanted Adam to return? "I knew there was always a chance Adam could return but I was quite surprised when it finally happened."
What was your audition like? "I did my screen test with Chris Gascoyne, who plays Adam's Uncle Peter. That was great and it proved to me my interpretation of Adam would work for both me and the show."
How have you been preparing to play Adam again? "I've been watching old footage of Johnny Briggs playing Mike Baldwin because, of course, Mike was Adam's dad. I remember Johnny being in the show when I was here last time, but I wanted to see Mike as a younger man. Adam is his father's son and a chip off the old block."
What have you been up to since leaving the Street in 2007? "Lots of things. I've travelled quite a bit and I moved to Sydney, then I went to live in LA. I love sunny climates. I did a bit of work there, but I got homesick and came back. Then my sister had a baby and I was just enjoying being an uncle."
What acting work did you do? "I was in Channel 4 comedy-drama, Beaver Falls, a BBC adaptation of Iain Bank's Stonemouth and also the Robert Carlisle film, The Legend of Barney Thompson. It was incredible working with people like Robert, Emma Thompson and Ray Winstone on that film – a real masterclass."
Did you keep up with Corrie? "When I could, although my mum's always filled me in on what's happening. I trust her eye. In fact, it was mum who told me that Kate Oates had taken over!"
Coronation Street, ITV
Get the latest updates, reviews and unmissable series to watch and more!
Thank you for signing up to Whattowatch. You will receive a verification email shortly.
There was a problem. Please refresh the page and try again.