Corrie's Brooke Vincent: 'My style icons are Gwen Stefani and Cheryl'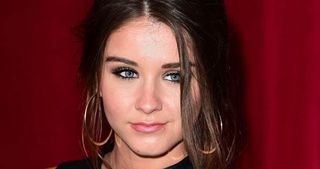 (Image credit: PA WIRE)
Coronation Street's Brooke Vincent tells Soaplife about her passion for fashion, as well as her character's family affairs...
Sophie Webster definitely does not have a wardrobe bursting with this season's fashion must-haves. But Brooke Vincent, who plays her, is a very different girl - she just loves her fashion.
"I recently started writing a blog about clothes, shoes, hair, make-up and looks in general," says Brooke (opens in new tab). "I'm really enjoying it, although it can be quite challenging deciding just what to put in. My personal style icons are Gwen Stefani (opens in new tab) and Cheryl Fernandez-Versini (opens in new tab). They always look amazing yet highly original and funky at the same time."
Are you more designer or High Street?
"High Street, definitely. Zara is my ultimate go-to fashion store, although I love Top Shop, River Island and H&M, too. Who doesn't? There's a brilliant on-line store called 'Lavish Alice' which I'm loving right now. Their fabrics, cuts and styles look designer, but most of the prices definitely aren't. When it comes to designers, though, I particularly like Miu Miu."
And do you have a favourite look?
"It depends on my mood. Sometimes I want to look girly, at other times more boyish. Although I like wearing black and white, I like experimenting with vibrant colours, too."
Do you clear out your wardrobe each season?
"No, I'm a hoarder. Every drawer and cupboard is full to bursting. I'd love a walk-in wardrobe."
Would you like to start your own label?
"Oh, I'd love it! Sometimes I'll go out looking for a particular outfit and I just can't find what I have in mind. I would love to have a range – dressy and casual - so I could get exactly what I wanted."
What's your big fashion weakness?
"Probably shoes. I just love them – both heels and trainers. I must have about 60 pairs of shoes in all. I'm quite organised and keep them in boxes so I know where they all are. I also have loads of handbags, which I never use!"
What do you think of Sophie's style in Corrie?
"She's practical rather than fashionable, which is a good thing because when I'm filming outside, I know I'll be warm enough. Sometimes I'll wear something of hers at home, but it always feels odd."
Speaking of Sophie, what's coming up for her in the special 'live' episode of Corrie on September 23?
"She's involved with what's going on in her family. Tim [Joe Duttine (opens in new tab)] finds out about Sally and Kevin's kiss and so there's a lot of fall-out from that. What's especially brilliant about this live episode is that it's character and story-led rather than being a big set piece. It's classic Corrie. I'm nervous, but incredibly excited."
Does Sophie want her mum and dad to get back together?
"I don't think so. I think Sally does Sophie's head in. Their roles are a bit reversed at the moment and Sophie's like the mum rather than the daughter. That's good; it shows a part of Sophie growing up on screen. There are lots of little things that will show this as we go into the autumn."
Are Sally Dyvenor (opens in new tab) and Michael Le Vell (opens in new tab) (who play Sally and Kevin) a bit like your parents in real life?
"Yeah, they are. I've been in Corrie since I was 11 so I've grown up around them. I've learned lots from them both. It's not just work, though. Michael helped me with my tax return the other day. Or at least he tried to. He put his glasses on and everything! He got it wrong and I had to correct him, but at least he had a go! The best piece of advice he's ever given me? 'Don't start breakfast when you're due on set in 10 minutes!'"
Coronation Street (opens in new tab), ITV.
Get the What to Watch Newsletter
The latest updates, reviews and unmissable series to watch and more!