Corrie's Kym and Alison: 'We're really close mates'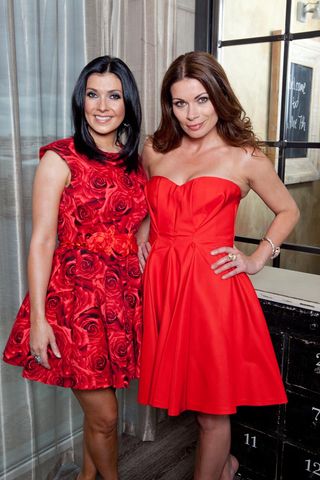 Coronation Street favourites Alison King and Kym Lomas tell TV Times magazine what makes Carla and Michelle – or 'Carchelle' as the fans have dubbed them – so close….
What makes Michelle and Carla such a successful team?
Alison: "Michelle is super efficient and always has Carla's back and Carla has the ability to deal with three things at once. The fact that they care about one another so much, underlines it all."
Kym: "They have got history. People forget that Carla was married to Michelle's older brother. They grew up together and know each other inside out, Because of that; they are able to offer the right support when the other needs it. They would annihilate anyone who tried to hurt the other."
We hear viewers love them as a team...
Alison: "Yes, there is this fansite where they call us Carchelle. I don't do Twitter, but Kym does and she shows me what people are saying. It's hilarious."
Kym: "They want Carla and Michelle to get together sexually. I put this picture of Alison and I up on Twitter and called it Carchelle and they went mad. I can't imagine Michelle and Carla getting together. It would be the cheesiest thing going. I said to Alison that if it ever happens, it would have to be a one-off because that would just be too weird."
What do Carla and Michelle make of the feud between Rob and Peter?
Alison: "They want their heads banging together those two. It is exhausting for Carla and it hurts her. She goes round and round in circles with them. She thought that bringing Rob into the bookies would spark a friendship, but it is not to be."
Kym: "Michelle likes it because she hates Rob so much. He stitched her up and tried to get her out of the way and she hasn't forgiven him. She loves the fact that they have fallen out and would back Peter any time."
What is their take on the mess Peter is making with the bookies?
Alison: "Carla hasn't really got her eye on the ball. She has dealt with her brother and is finally on top of the factory and the last thing she expects is for Peter to be in such financial trouble. When he tells her about the 'competitive' odds he is going to offer people, she doesn't really understand it. Carla is desperate to put Peter on a pedestal, but he is not scrambling onto it!"
Kym: "When Steve tells Michelle about Peter's scheme to offer silly odds; she is shocked and tries to tell Carla. She doesn't want Carla to be made a fool of and she is worried that the factory might get dragged down because there is a danger of Peter losing everything."
Would you want to be a businesswoman in real life?
Alison: "No, it's my worst nightmare. I am not good with figures. I was the total non-academic artistic type at school. Being a businesswoman would frighten the living daylights out of me."
Kym: "I have just gone into a business partnership with my husband, actor Jamie Lomas and a couple who run Entertainment Today in Manchester. We are providing celebrities for personal appearances and I am very excited about it. We had a big launch a couple of weeks back and have been inundated with calls."
Do you two enjoying working with one another?
Alison: "We are really close mates and we laugh all day in that factory office. We call each other 'mummy' at work because we have each other's back. Kym has become one of my best friends and I think the chemistry between us, is evident between Carla and Michelle."
Kym: "I love working with Alison – she's mental! We know each other inside out and we're very silly together."
Do you see each other outside of work?
Alison: "We meet up a lot and this year, we are going on holiday together for the first time. Kym and I have been through a lot together and that's brought us closer."
Kym: "It's going to be a great holiday as Alison and I like the same things and always have a giggle. My son David, who is 18 and daughter Emily, 15, are coming too. David wanted to have a last holiday with me, but knew that if my youngest Polly came, my attention would be on her because she is only two. Alison is coming on her own and Jamie is looking after Polly, so we'll get some grown-up time. We can sit around and do nothing. I can't wait."
What is Alison/Kym's most annoying habit?
Alison: "She is always making me laugh. When I go wrong, she can't help but laugh. I can't think of anything annoying – Kym is always talking about her family, but I love that. She is really family orientated and is the sort of person who can cheer you up in a second."
Kym: "She doesn't have any. She has some funny habits. When she gets a line wrong, she does a funny giggle whereas I just swear. Once, she had to say the line 'I do business with loads of blokes' and she kept saying 'I do loads of blokes.' She kept saying it and we were crying with laughter."
Get the What to Watch Newsletter
The latest updates, reviews and unmissable series to watch and more!