Corrie's Tina O'Brien: 'I imagine there's a lot of women who'd like to be in my shoes!'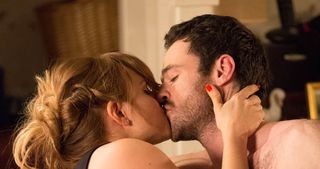 Back as Sarah Platt, Coronation Street's Tina O'Brien talks to Soaplife about on-screen kissing and off-screen motherhood...
It's hard to believe you had a baby a few months ago.
"Oh, I can believe it! I'm carrying a bit of a mummy tummy still – there's no way I'm back in shape. My little boy Beau was born last October so I'm a mum of two now. My daughter Scarlett is six."
Your partner Adam's a personal trainer. Does he make you do sit-ups all the time?
"I'd kill him if he did! But he does give me exercises if I ask him."
How are you juggling work and being a mum?
"It really is a juggle – as it is for every working mum. Scarlett is at school and she also spends time with her dad (Coronation Street co-star Ryan Thomas, who plays Jason). Adam's working hours are flexible and he's doing most of the baby care at the moment, including night feeds when I have an early start."
Are you still running your kids' drama group as well?
"Absolutely! I love working with children. The Drama Mob is auditioning for a production of Matilda we're putting on soon."
Does Scarlett want to be an actress?
"She wants to be a singer – at least she does at the moment. It wouldn't surprise me in the least if she ended up acting, though. It's what I do, her dad does and also her uncle, Ryan's brother Adam [Thomas, who plays Adam Barton in Emmerdale].
Has Corrie changed much since you left in 2007?
"We're on a different set – which is much better than the old one, by the way. During one of my first scenes in the Platts, it felt strangely normal."
Sarah gets passionate with Sean, doesn't she?
"Yes, and I'm very happy. Sean [Ward, who plays Callum] is so nice. I was nervous about doing snogging scenes again, but that's been fine, too. I imagine there's a lot of women out there who'd like to be in my shoes!
Coronation Street, ITV.
Get the What to Watch Newsletter
The latest updates, reviews and unmissable series to watch and more!