Fight! Corrie's Helen Worth explains why Gail and Eileen take it out oto the street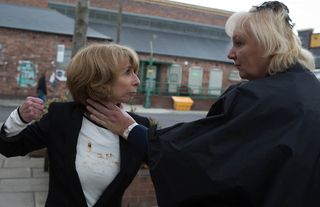 (Image credit: Joseph Scanlon)
Gail comes to blows with Eileen when she finds out about that kiss on Coronation Street (opens in new tab), Helen Worth reveals to Soaplife...
Michael's wanted nothing to do with Gail since he discovered she already knew about Andy masquerading as Gavin. But she's full of hope when Michael, newly discharged from hospital, turns up on her doorstep wanting to talk.
"Gail begs him for forgiveness, vows there'll be no more secrets between them and swears she will only ever be honest with him," says Helen (opens in new tab). "So Michael reckons if they're being honest, now's the time to tell her he kissed Eileen…"
Does Gail completely lose it?
"It hits her like a tonne of bricks and she completely sees red. Gail thinks it's typical of Eileen [Sue Cleaver (opens in new tab)], who must have done it to spite her! Gail is proud and feels humiliated – as if Eileen now has one up on her and is laughing behind her back. She doesn't even stop to think that there were two of them involved - Michael [Les Dennis (opens in new tab)] as well as Eileen."
How do Gail and Eileen end up fighting?
"Gail's like a woman possessed and goes looking for Eileen, who's at the salon. Gail begins to throw things at Eileen and they end up taking it out on to the Street."
How does Eileen react?
"Eileen tries to tell Gail it was only a kiss and that Michael isn't even her type, but this just seems to make Gail even angrier! Nothing Eileen says calms Gail down. In the end they just end up launching insults at one another."
And Gail ends up insulting Michael, too…
"Gail tells Eileen she was really scraping the barrel when she decided to go for Michael because he's hardly a catch! Gail then realises Michael has overheard and she's completely mortified."
Ooops! What does he say?
"Michael sarcastically tells her it's good to know where he stands. Gail furiously tries to backpedal, but Michael's disgusted and heads back into Eileen's."
Is there any way back for Gail and Michael?
"She's happier when Michael decides to leave Eileen's and ends up staying at Andy [Oliver Farnworth (opens in new tab)] and Steph's [Tisha Merry (opens in new tab)].... If Michael's forgiven Andy, then maybe he'll forgive her, too."
Coronation Street (opens in new tab), ITV.
Get the latest updates, reviews and unmissable series to watch and more!
Thank you for signing up to Whattowatch. You will receive a verification email shortly.
There was a problem. Please refresh the page and try again.