Ex-Corrie star Hayley Tamaddon: 'Millie is the hardest role I've ever taken on!'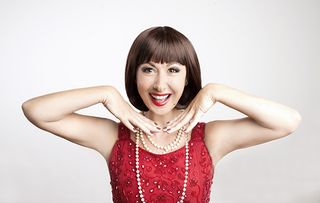 (Image credit: Anton Belmonte)
Former Coronation Street star Hayley Tamaddon tells us all about her new stage role… and why she'd go back to the cobbles in a heartbeat!
She's a grafter is Hayley Tamaddon. She played Andrea Beckett, Steve McDonald's night-school classmate, in Corrie, and Delilah Dingle in Emmerdale. She sang her heart out in Soapstar Superstar and won series five of Dancing on Ice. She's also done several pantos and toured the country with the acclaimed musical, Chicago. But now she's taken on the title role in the touring production of Thoroughly Modern Millie - and, oh boy, is it a biggie!
What's the story?
"I can honestly say I've never worked so hard in my life," Hayley told Soaplife during in break in rehearsals. "We are talking acting, singing and dancing, all at once. The musical is set in the roaring 1920s so it's very fast Charleston and Black Bottoms! The singing is higher than I'm used to, too. But I'm loving it – even if it is the hardest role I've ever taken on!"
What's happening in Coronation Street? See the latest soap storylines
Hayley Tamaddon's interview with Soaplife about starring in the title role in Thoroughly Modern Millie…
Soaplife: What's Thoroughly Modern Millie about?
Hayley Tamaddon: "It's the story of a girl called Millie Dillmount, who leaves her home in Kansas for the bright lights of New York city. She gets herself in all kinds of trouble! It's a really uplifting, feel-good show."
S: How did you get the part?
HT: "The show's producers saw me in Chicago and they offered me the role, which was lovely. I'm rubbish at auditions. I get really, really nervous."
S: Did you have a lot of preparation to do for the role?
HT: "Absolutely. After I'd accepted it, I took some singing lessons to get my voice in the best possible shape. I also spent a couple of months building up my stamina in the gym, so I'd be able to deal with all the very fast dancing. I lost a bit of weight in the process and I built up muscle where I didn't know I had any!"
S: Presumably you have to dance very energetically and sing at the same time?
HT: "Yes - and I'm not really a dancer. It's very exciting, though, and I like the challenge. Sometimes I think I can't do something, but I keep on pushing and eventually I get it. I feel so proud of myself when I do."
S: It's a six-month tour. Do you mind being away from home for that long?
HT: "It's what we do in this industry and I don't mind being away at all. You build up a close friendship with your colleagues and you get to know them very quickly. That's not surprising when, within minutes of meeting someone, your director's telling you to kiss them!"
S: Is there a difference as to how audiences respond depending where you are in the country?
HT: "There is actually. Audiences are louder in the North and very polite in the South! It's nice having the contrast. But no matter where we are or how varied the audiences, people are on their feet dancing and singing by the end of the show."
S: Are you still in touch with your former Corrie colleagues?
HT: "Only all the time! They're like my family and it almost feels like I never left. I go to quite a few charity events with the cast and crew, and quite often the directors will say to me, 'Are you sure you're still not in it because we see you all the time!' Lots of my Corrie mates came to see me in Chicago and they'll be coming to see me in this show, too."
S: Would you go back to the Street?
HT: "In a heartbeat! I'd love it. But not for the next six months, obviously, as I'm busy with Thoroughly Modern Millie!"
Thank you for signing up to Whattowatch. You will receive a verification email shortly.
There was a problem. Please refresh the page and try again.