Corrie star Antony Cotton: 'I've sat in crack clinics and places I never thought I'd be in a million years, just trying to access help'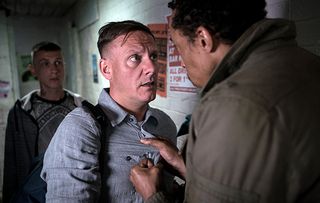 (Image credit: Andrew Boyce)
Antony Cotton reveals how he was caught up in the near-impossible task of trying to save an old acquaintance from a life on the streets.
Antony Cotton was, by his own admission, "quite grumpy" when he took part in ITV show Dancing on Ice earlier this year. But it wasn't just the barbed comments of judge Jason Gardiner that had left him tetchy. The Corrie star – better known as Sean Tully on the soap – has revealed that behind the scenes, he was caught up in a chaotic, stressful and what often felt a near-impossible task, trying to save an old acquaintance from a life on the streets.
The rollercoaster journey all started when Antony, 42, checked his Facebook Messenger account for the first time in months.
Recalls Antony: "By fluke, the top message was from a lad I'd met a couple of times, socially. It said: 'Can you help me? I've got nobody else to turn to. I'm homeless.' I thought: 'Is this real?' so I rang the number, and it was him.
"I wondered, 'What could have possibly got him into this position?' Because when I knew him, he had a missus, two kids, an Audi on the drive and was self-employed."
What followed was a wake-up call in just how easy it is to become homeless – and, conversely, how difficult it is for someone living rough to get their life back on track. Due to personal circumstances, the man had gone from sleeping in his own bed one night to sleeping outside the next. And, all too soon, things had got desperately bleak...
Says Antony: "I got in touch with a charity in Manchester called Barnabus, who were brilliant, but when you go to a homeless charity, they don't deal with housing. You have to go to a housing trust, and you have to be under their jurisdiction.
"This lad was in Fleetwood, living in a tent in the outside stairwell of a council block. I was told not to pick him up, because you don't know what you'll be presented with, so I said to him 'If you can get to Manchester, I'll help you.' When I saw him, I internally burst out crying. He used to be big, but he was about eight stone and had no teeth after being beaten up."
Continues Antony: "When you're homeless, you're ghosted. If you have no address, you can't get benefits. But luckily, the weather was bad and 'SWEP' was in place –the severe weather programme, when councils aren't allowed to refuse anybody shelter. He got shelter for a week and then got into a private house, and was able to unlock all the social benefits. And, thanks to Barnabus, he now has employment.
"But there were so many places he had to get to, to get everything sorted – one was 12 miles away. Because I have a car, we could shoot around, but no-one would want to walk 12 miles in that freezing weather. It's no wonder people give up."
What Antony didn't realise at the time was that helping his friend would prove to be invaluable research for his next Corrie storyline. Just a few months later, he was staggered to be told that his alter-ego, Sean, would also become homeless. "If someone had said that to me without me going through what I'd been through, I've have said 'That just doesn't happen.' But, it turns out that it's absolutely true."
Sean's journey began when he spent the night in a tent after suffering the double blow of losing his new job and being asked to leave Fiz and Tyrone's place. The cobbles favourite has since got his old job back behind the Rover's bar but, low on cash and high on pride, he's still without a roof over his head, and things go from bad to worse next week when he's beaten up and robbed.
Reveals Antony: "Sean ends up in a homeless community with a woman called Carol. There's a scene where they share their stories, and it's a real eye opener for Sean when he hears she's been homeless on and off for four years. My friend did it for six months and it nearly killed him."
Sean's ordeal will continue into the Summer. But the effects will no doubt last longer – and, for Antony, the experience of helping his friend get back on his feet has clearly left its mark. "It's a monstrous beast being homeless," he sighs. "I've sat in crack clinics and places I never thought I'd be in a million years, just trying to access help.
"Because I've got a big gob, I was able to say 'I'm not leaving until we're sorted.' But it broke my heart, thinking of all the people who don't have that support.
"We've never done this storyline in Corrie before, and the one thing I hope people will take from it is that it can happen to anyone."
Coronation Street continues Mondays, Wednesdays and Fridays at 7:30pm on ITV
Get the What to Watch Newsletter
The latest updates, reviews and unmissable series to watch and more!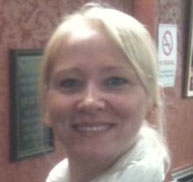 Alison Slade has over 20 years of experience as a TV journalist and has spent the vast majority of that time as Soap Editor of TV Times magazine.
She is passionate about the ability of soaps to change the world by presenting important, issue-based stories about real people in a relatable way.
There are few soap actors that she hasn't interviewed over the years, and her expertise in the genre means she has been called upon as a judge numerous times for The British Soap Awards and the BAFTA TV Awards.
When she is not writing about soaps, watching soaps, or interviewing people who are in soaps, she loves going to the theatre, taking a long walk or pottering about at home, obsessing over Farrow and Ball paint.