Love is the drug for Bethany, says Corrie's Lucy Fallon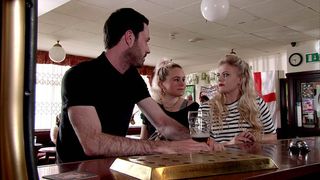 Coronation Street (opens in new tab) star Lucy Fallon (opens in new tab) says Bethany wants her mum's boyfriend Callum and will do anything to get him…
So Bethany has the hots for Callum?
"She really fancies Callum (Sean Ward) - he seems exciting and a bit dangerous, plus she thinks he's really fit. She's jealous of her mum's relationship."
Does Bethany seriously think that Callum fancies her back?
"Yeah - there are quite a few scenes where it does sort of come across that he might fancy her, and because she's young and has never had a boyfriend before, she takes anything he says literally. She definitely thinks he fancies her."
She seems keen to help with his drug dealing – why?
"She wants to get involved because she wants him to like her. Bethany thinks if she helps him to do all these things he's asking her to, then maybe there'll be more of a chance that they'll actually be together."
Does Bethany have any idea of what she's getting herself into?
"None at all. She's naive, and not too clever!"
What does she make of Callum's feud with her uncle, David?
"I don't think she cares. She's a 15-year-old girl who's only bothered about herself. She's completely wrapped up in this whole thing with Callum."
Do you think that Callum and Bethany are evenly matched?
"Bethany would like to think so but no, Bethany's not as bad as Callum. She's not a villain, she's just got herself wrapped up in his games. She's playing with fire, but she has absolutely no idea what she's getting in to."
Where does Bethany gets her ruthless, devious streak from?
"Definitely her mum. Sarah was like that when she was younger, so she's just sort of taking over from her. "
Get the latest updates, reviews and unmissable series to watch and more!
Thank you for signing up to Whattowatch. You will receive a verification email shortly.
There was a problem. Please refresh the page and try again.