What makes Terence Maynard cry? The former Coronation Street star reveals all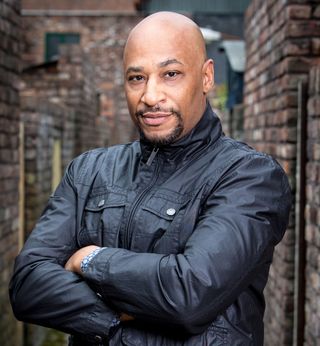 (Image credit: Joseph Scanlon)
Terence Maynard (opens in new tab) was a Coronation Street villain, now he's playing a baddie in panto… and he tells Soaplife why he loves it. Oh yes he does!
Fresh from playing bad boy Tony Stewart in Coronation Street (opens in new tab), Terence Maynard has become the wicked wizard Abanazar in Aladdin (opens in new tab) in panto this Christmas at the Sunderland Empire…
"I love doing panto at Christmas," he reveals. "Always have done. I did my first one when I was eight years' old! There's something so festive about the theatre at this time of year and it really gets me in the mood. We only get one day off – on Christmas Day – but that's fine. As soon as my kids finish school they and my wife will be joining me in Sunderland and so we'll spend all the holiday together. I'm excited just thinking about it!'
Is your Abananzar as dodgy as Tony was?
"He's a baddie, but he has a certain charm. That's rather like Tony, isn't it? My Abanazar is very narcissistic – he's in love with himself and this gets on the audience's nerves."
Do you like the fact that panto's a bit of a free for all?
"Yes. Neither the audience nor the cast are tied down to the usual rules and regulations of theatre going. You're never too sure what's going to happen with each performance. I like that – it's like a spectator sport."
What do you have lined up after the panto?
"I'm just going to enjoy being at home and catching up with friends for a while – in between going for auditions, of course."
Ever get any weird fan mail?
"Yeah – one letter requested just a shot of my legs. Very strange. I didn't reply to that one."
What about social media comments?
"When you join Corrie, they advise you not to look at those, but I couldn't resist a peek. There was one that said, 'I hate black Tony' – that was all. It was so bizarre. I wasn't at all offended. In fact, I thought it was hilarious. Every Corrie cast member has their own special song that the sound engineers play when you come on set. Mine changed to 'Black Betty' after that – with 'Tony' substituted for 'Betty'."
What's the best piece of advice you've ever been given?
"To treat everyone the same. I hope I do that. Some people have said I come across as a bit intimidating, but that's more about the parts I've played. I'm actually very friendly. I'm also a big softie – I cry easily."
What kind of things set you off?
"Anything to do with children. That always gets me going."
If you could swap places with anyone, who would it be?
"Ummm – my nine year old son, I think. His life at the moment is pure wonder and joy at everything."
Thank you for signing up to Whattowatch. You will receive a verification email shortly.
There was a problem. Please refresh the page and try again.