Doctor Who guest star Frank Skinner: 'I felt absolute, utter elation... and terror!'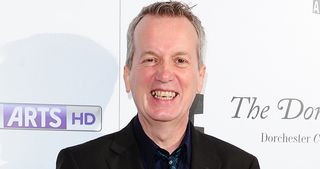 (Image credit: PA Archive/Press Association Ima)
Lifelong Doctor Who fan Frank Skinner (opens in new tab) has his dreams come true this week when he makes a guest appearance in the Time Lord's latest adventure.
The comedian plays a futuristic train engineer called Perkins in the episode Mummy on the Orient Express (Saturday, BBC1), which sees the Doctor and Clara terrorised by a deadly monster while taking an intergalactic train ride. We spoke to Frank about his special trip to space…
As a self-confessed Doctor Who geek, how did it feel to appear on the show?
"It was a strange mix between absolute, utter elation and terror. I didn't realise the pressure of being in a programme that you are completely in love with. Everything I did, I thought, 'Oh no, that isn't good enough for Doctor Who.'"
What was it like working with Peter Capaldi?
"At one point he said his lines literally eight inches from my face, and I was just looking at him, thinking, 'My God, it's the Doctor!'"
How would you describe your character, Perkins?
"Perkins is the futuristic equivalent of a car nut, always wanting to take the back off things. So he's a smart guy who likes technology, which is where he intersects with the Doctor. When Clara and the Doctor are separated, Perkins becomes a kind of temporary companion as they try to solve the riddle of the mummy."
Is your son Buzz a Doctor Who fan too?
"Filming the episode meant that I missed Buzz's birthday. But ultimately I thought he would probably rather have a dad who has been in Doctor Who than one who was at a second birthday he can't even remember."
Did you get him any special souvenirs from the set?
"I got a photo of Peter Capaldi stepping out of the TARDIS, holding up a sign that says, 'Happy Birthday, Buzz', which I will now send to him every birthday for the rest of my life..."
Get the latest updates, reviews and unmissable series to watch and more!
As well as writing on sport and television for What to Watch, Richard McClure has contributed art and travel features for a wide variety of publications, including the Financial Times, The Guardian, and The Observer.
Thank you for signing up to Whattowatch. You will receive a verification email shortly.
There was a problem. Please refresh the page and try again.