Downton's Michelle Dockery: 'Taking off her hat was a major event in Lady Mary's day!'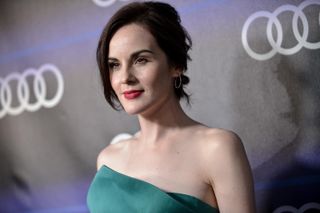 In tonight's opening episode of the new series of Downton Abbey Lady Mary's comment about going upstairs to take off her hat raised a few eyebrows.
Now What's on TV can now reveal there's more to the comment…
When asked about the phrasing Michelle Dockery, who plays Lady Mary in Downton Abbey, explained the mystery behind the remark.
"In order to take her hat off Lady Mary also had to have her hair restyled. That's why she had to go all the way upstairs. Taking her hat off was a major event in the day for Mary!"
Fortunately for Michelle, she gets to do a few more exciting things than wear hats as the series develops.
"The most challenging thing I had to do this year is side-saddle riding for a later episode. I had about five weeks of training, learning to canter very fast. I was a bit achy afterwards but I did all right – I stayed on all the time!"
Michelle also sheds light on why Mary hasn't yet fully made up her mind about suitors Charles Blake and Lord Gillingham.
"I don't think it would be right for the audience if Mary suddenly got married at the start of series five. It's not very interesting. It's more interesting when it's complicated – or she makes a decision and changes her mind!
"Downton's creator Julian Fellowes surprises the audience all the time and keeps it alive. I love seeing it unfold – it's never how I think it's going to be!"
The second episode of Downton airs on ITV next Sunday when Richard E. Grant joins the cast as charming art historian Simon Bricker and he instantly takes a shine to Lady Cora…
Get the latest updates, reviews and unmissable series to watch and more!
Thank you for signing up to Whattowatch. You will receive a verification email shortly.
There was a problem. Please refresh the page and try again.