Me Before You | Emilia Clarke's chirpy carer works her charm on Sam Claflin's quadriplegic toff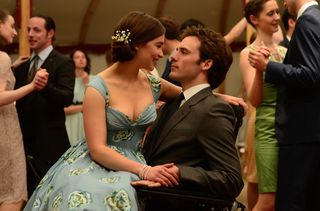 (Image credit: Alex Bailey)
Jojo Moyes' bestselling romantic weepie Me Before You becomes an unabashed tearjerker of a movie, but it's been put together with such charm that you probably won't mind the assault on your heartstrings and tear ducts.
The appealing stars help enormously. Emilia Clarke (Game of Thrones' Mother of Dragons Daenerys Targaryen) brims with chirpy vitality as working-class stripy-tight-wearing kook Lou, while Sam Claflin (Finnick Odair in The Hunger Games) is her sardonic foil as quadriplegic toff Will.
Having been paralysed in a motorbike accident, Will has his mind set on ending his life at the Dignitas clinic in Switzerland in six months' time. Hired as his paid companion, Lou's task is to persuade him to go on living
Me Before You takes place in a ridiculously glossy, impossibly well-heeled, romcom version of England – Will doesn't quite live in a castle, but his family does own one - and its characters verge on stereotype. Lou's mum and dad (Samantha Spiro and Downton Abbey's Brendan Coyle) are salt-of-the-earth types, while Will's parents (Janet McTeer and Charles Dance) are distinctly upper crust.
Yet Moyes and first-time director Thea Sharrock (hitherto known for theatre) allow everyone – save perhaps for Lou's one-dimensional fitness-obsessed boyfriend (Matthew Lewis, Neville Longbottom in Harry Potter) - moments where genuine feeling peeks through. McTeer and Dance, in particular, are very good at conveying their characters' tamped-down emotions, while the charismatic Clarke and Claflin breathe vivid life into their storybook characters.
Certificate 12. Runtime 110 mins. Director Thea Sharrock
Me Before You is available on Blu-ray, DVD & Digital Downlad from Metro-Goldwyn Pictures and Warner Bros. Home Entertainment.
Special features:
Me Before You: From Page to Screen
Outtakes
Deleted Scenes
https://www.youtube.com/watch?v=uEv57GJzHMw
Get the latest updates, reviews and unmissable series to watch and more!
Thank you for signing up to Whattowatch. You will receive a verification email shortly.
There was a problem. Please refresh the page and try again.